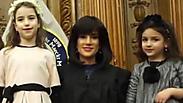 For the first time in history, an ultra-Orthodox woman has recently been sworn in as a judge in New York. Rachel Freier, 50, was sworn in Thursday as a Civil Court judge in Kings County in Brooklyn in front of an audience full of New York City officials and Haredi women in wigs.

One of the highlights of the evening was famed Hasidic signer Lipa Schmeltzer singing the US national anthem with bits of Yiddish.

Rachel Freier sworn in

US press widely covered the event from the elections, in which Freier beat two other candidates.

American media outlets presented a narrative in which Freier, contrary to most ultra-Orthodox women, fell in love with law and decided to pursue the profession after working as a legal secretary.

Freier studied at Brooklyn Law School and two years ago founded Ezras Nashim, an all-female ultra-Orthodox medical service specializing in emergency medicine.

Freier was born in Boro Park and is a mother to six as well as a grandmother who brought her grandchildren on stage while Schmeltzer sang God Bless America in Yiddish.

In her remarks, Freier spoke proudly of her Hasidic heritage and her obligations to the community in Brooklyn.

"I hope ultra-Orthodox women understand that they can achieve their goals without compromising their religious values," she said. "There is a misconception that women in our community suffer from oppression and can't succeed."