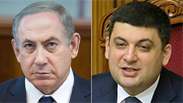 Netanyahu and Groysman
Photos: Emil Salman, AP
Ukraine 'confident emotional internal debates in Israel' won't impact relations
After Netanyahu cancels Ukrainian PM's visit to Israel, Kiev issues statement in effort to calm tensions, asserting 'The text of the resolution is balanced. It calls for taking measures necessary for peaceful solution from both Israeli and Palestinian sides.'
After Prime Minister Benjamin Netanyahu canceled a visit by Ukraine's prime minister to Israel, the Foreign Ministry in Kiev expressed hope on Monday that relations between the two nations won't be affected by Ukraine's support of a UN Security Council resolution against the settlements.

"We are confident that active and emotional internal debates in Israel will not impact traditionally friendly Ukrainian-Israeli relationship, based on mutual respect and joint interests," the Ukrainian Foreign Ministry said in a statement.

Ukraine stressed that over the years, it has "adhered to the consistent and balanced position" on the Israeli-Palestinian conflict, noting "We stand for peaceful coexistence of two independent States – Israel and Palestine."

While Israel views UN Security Council Resolution 2334 as an attempt to dictate conditions for a peace accord with the Palestinians, the Ukrainian Foreign Ministry stressed "the need for direct Israeli-Palestinian negotiations."

"Ukraine, as well as other permanent and non-permanent members of the UN Security Council and also the UN Secretary-General, for its part more than once condemned the settlement activities of the State of Israel, because it is contrary to the international law," the statement went on to say, adding "We also condemn the violence and incitement to it from the Palestinian side."

Ukraine's decision to vote in favor of the resolution appears to demonstrate the extent to which US President Barack Obama was behind the decision.

According to officials in Israel, Ukrainian Prime Minister Volodymyr Groysman, a Jew who is thought of as one of Israel's main supporters, wanted that his country not be involved in the consultations held on the resolution.

However, Ukraine's President Petro Poroshenko decided to vote in favor of its passage following a telephone conversation with US Vice President Joe Biden.

"The text of the resolution is balanced," Kiev asserted. "It calls for taking measures necessary for peaceful solution from both Israeli and Palestinian sides: Israel should stop its settlement activities while Palestinian authorities – to take effective measures toward fighting against terrorism."

"Our country consistently advocates the respect for the international law by everyone and everywhere as has experienced itself the tragic consequences brought by its violation," the Ukrainian Foreign Ministry added.

Ukraine was among the 14 members of the Security Council that supported the resolution. The US was the only one to abstain, while none voted against. In an unusual move—for the first time since 1980—the US decided not to veto a resolution against Israel.