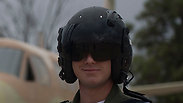 Capt. A.
Photo: IDF Spokesperson
Amongst the dozens of pilots who graduated from the 173rd course of the Israel Air Force on Thursday was 25-year-old Capt. A. from Holon, who immigrated to Israel at the age of 6 from Ukraine's second largest city of Kharkiv and served in the Paratroopers' and Nahal Brigades before enrolling in the pilots' course.

Speaking with Ynet, A. said that he wanted to spread the message that "There's great potential that isn't realized in the population from the former Soviet Union and from Ethiopia."


A. began his service as a combat soldier in Nahal before becoming a team leader in the 202nd Battalion of the Paratroopers. He then went through the officers' training course and returned to the Nahal Brigade as an operations officer. He didn't fulfill his greatest dream of being a soldier in the elite Sayeret Matkal, failing to get into the unit twice, but he did instead manage to complete the prestigious pilots' training course.

The captain also took half a year to take part in the IDF's 6-month Nativ conversion course and became Jewish before successfully passing the acceptance tests for the IAF course. He is to serve as a transport pilot.

Before he was drafted, however, A. elected to take part in a service year in which pre-IDF recruits volunteer to aid communities before their mandatory military service. A. performed his year in Beit Shemesh.

He said, "The educational system must invest more in immigrant youth, explaining more about the options that they have for significant roles in the army, raising awareness to get accepted to significant roles. Lots of immigrant youth miss out that way. As a high school student, I didn't know at all about a service year of a preparatory military course."




Serving in three different units is not a usual army service, but A. had no hesitations: "I always felt pride in my unit, but I always looked at myself years ahead. In retrospect, it would have been better to stay on longer as a Nahal officer, perhaps until reaching the position of deputy company commander to give more to 'the Greens' and then go to the pilots' course, but I have no regrets."