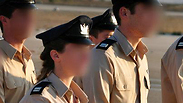 Female fighter pilot
Photo: IDF Spokesperson
IDF interviews newest female fighter pilot
Lt. Shahar, who became the fourth female fighter pilot in Israeli Air Force history last week, gives an interview on the IDF's new website; she explains that she was not a stereotypical overachiever and that piloting was her first true niche; 'There are a lot of women who have the potential to join the piloting world, but they don't know it.'
"I don't feel special," said Lt. Shahar, the fourth female fighter pilot in the history of the Israeli Air Force who completed the 173 Pilots' Training Course last week. "Even before the course, I was a completely regular person. Not the most successful amongst my friends. I didn't have the highest grades in high school—they were actually middling. In basketball as well I was good, but I wasn't in the top league. I think this is the first thing I'm really good."

The 22 year old grew up in a small village in the center of the country and learned in a computer sciences and art high school. Her first interview was published on the IDF's new website. "I didn't know air crews or the world of flying before the course. I came across it in 12th grade when we were first sorted for the army. That stage forced me to confront the question of what I wanted to do in the IDF and where I wanted to end up. That's where the idea of the pilots' course surfaced."

Lt. Shahar finishes the course (צילום : דובר צה"ל)

When her friends began being sorted to special and elite unites, Shahar decided to go for the pilots' course. "I understood that this was the best thing that I could do in the army, the highest that I could reach," she explained. Due to a dislocated shoulder in basketball that she had suffered a few years previously, her medical profile, used by the IDF to determine the medical suitability of recruits for different units, was lowered.


Shahar tried to fight the decision and raise her profile, but to no avail. She ended up being assigned to serve as a simulator instructor in the IAF, and she was satisfied with that position. "Originally, I gave up on being a pilot," she said. "I told myself that it was a great position, and I made my peace with it. I really loved and connected to it. Every spare minute I had, though, I went flying."

Half a year into her enlistment, her medical profile was raised. After a conversation with a close friend, Shahar decided to apply again for the pilots' course. "We decided together that both of us would go for it, no matter what."

Shahar was accepted and progressed gradually. "I had concerns about what would be if I didn't succeed and would fail. I knew everybody believed in me and that I had to succeed," she recounted. "From there, I continued step by step, each stage separately. I looked at what I had gone through up to that point and what I had done, but not very far forward."

From the IAF graduation (צילום: רועי עידן)

IAF's 173rd Pilots' Course

Capt. A. immigrated to Israel from Ukraine at the age of 6; he performed a year of volunteer work before serving as a combat soldier with the Paratroopers and an officer with Nahal and completed a conversion course to Judaism before joining the IAF.

Regarding the moment when she was informed that she her application to be trained as a fighter pilot, Shahar said, "I had a huge smile. It felt like a pat on the back. I got very emotional, and I mainly wanted to run and phone home. I called my mom and my previous commander at the simulator—he really supported my going for the course, always helping me and really believing in me."

Shahar's accomplishment puts her in an extremely exclusive club, but she isn't moved at all by the data on women in the pilots' course in general and the fighter pilots' in particular. "Being a female fighter pilot is just like being a male fighter pilot," she insisted. "It's doing what's necessary of me to finish the process and later on to fly operational planes in the force."

"I think that I'm here for a lot of reasons that are individual and not feminine, reasons that are due to who I am and not because I'm a woman," Shahar added. "I don't think that I represent the female sex or all the women who want to enlist in the course. In the end, I'm like the whole gang who stand with me on the parade field—and I completed the exact same path."

"There are a lot of women who have the potential to join the piloting world, but they don't know it," she shared. "Any woman can do this. I don't think that you need to fulfill a certain typecast to finish the course. You don't need to understand planes from the age of 13, and you don't need to be a genius in class. You need to try, to come with an open mind, and not to write off the option before it's even made possible."