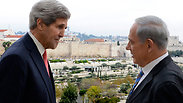 Netanyahu and Kerry. The exchange of words between them was nothing but a footnote in history
Photo: EPA
Kerry's failure, Netanyahu's liberation
Op-ed: The six principles specified by the outgoing secretary of state are, more or less, the basis for any agreement, if one is ever reached. In the past, the Palestinians would have rejected such a speech out of hand. Now, they are keeping a low profile while Israel is lashing out at Obama and Kerry in a bid to flatter the new king, Donald Trump.
There were moments when it seemed like one of the debates between Hillary Clinton and Donald Trump. John Kerry, Clinton's double, delivers a reasoned speech, backed by facts, about the complexity of the situation, while Benjamin Netanyahu, Trump's double, responds with a crushing personal attack, filled with insults.

Of the two of them, the more interesting one—and the more important one for our future—is Netanyahu. The things he said in Hebrew were just a short introduction to the speech he gave in English. He spoke to one person only, to Donald Trump.

In the history of the conflict, the exchange of words between them was nothing but a footnote. Kerry said what he had to say and went packing. It feels like graduation time in the White House: The president is in Hawaii, a large part of the staff is on holiday, and the others are busy looking for a job. If something happens following the two speeches, it will happen in one of the international bodies and will be initiated by a different government. The chances for that are not high.

All that is left for us Israelis is to wonder: Why is Kerry going to so much trouble concerning Israel? Doesn't he have more joyful matters to deal with on the eve of the New Year? And why is it so important for Netanyahu to bite the hand that has fed him loyally, generously, for the past eight years? Where does that get him? What does that get the country he heads?

Most Israelis and Palestinians have stopped believing that the two-state solution will ever materialize. Kerry still believes it will happen. Peace in the Middle East was supposed to be the jewel in his term's crown, his Nobel Prize. He put a huge effort in the negotiations, and it was a miserable failure. Like many before him, he lived with the sense that an agreement is within reach: All the sides need is a suitable outline, principles and parameters, and peace will come.

In the book Kerry is writing about his term, he will probably say what he did not say in his speech last week. He was not only let down by Netanyahu and Mahmoud Abbas, but also—and perhaps mainly—by Barack Obama. James Baker, who served as secretary of state under President George H. W. Bush, proved that the secretary of state's power is derived from the backing he receives from the president. If there is no backing, there is no power and there are no results.

Excerpts from Kerry's speech (רויטרס)

When Kerry tried to reach an Israeli-Palestinian agreement, Obama was in his second term. The lesson he learned from his first term was that he had better keep his distance. Kerry arrived here emptyhanded. He failed for several reasons. The most important one may be the fact that he failed to prove to the leaderships on both sides that the political return they will receive is bigger than the political price they will have to pay if they sign an agreement.

Kerry tried it once and became addicted. He delivered his lamentation speech about the two-state solution on several occasions, two of them at the Saban Forum in Washington. The speech was identical: The same gloomy account, the same wounds of a friend, the same preaching tone—like a parent talking to a child, the same warnings that Israel is deteriorating into a reality in which it will stop being what it was designated to be—either it won't be Jewish, or it won't be democratic. There was something irritating about his helplessness. That doesn't mean he wasn't right.

"Kerry," one of his assistants once told me, "tends to see problems from the other side's point of view. He tries to step into his fellowman's shoes." Here in the Middle East, I said to him, people don't appreciate such thoughtfulness. They expect an American secretary of state to represent America's interests before anything. "That may be the case," the man said, "but what can we do? That's Kerry."

Kerry dedicated part of his speech last week to the solution's importance to American interests and values. Meanwhile, however, the image of American interests—and probably the image of American values as well—has completely changed following Trump's victory. No one knows what Trump's policy in the Middle East will be, how will he define America's interests, what values will he fight for.

Trump, in the meantime, is mainly a style—and that's what Netanyahu was talking to, the style. His personal attack on Obama and Kerry was aimed at flattering Trump's tweets. That's what should be done to people that the new king does no delight to honor.

Netanyahu's English statement following Kerry's speech (צילום: אלי מנדלבאום)

There was no meeting point between the two speeches: Kerry spoke about settlements in the heart of the Palestinian population; Netanyahu spoke about the Western Wall. Kerry spoke about Israel's deterioration to a bi-national state and about a regime of "separate but not equal," a big hint at the apartheid regime; Netanyahu spoke (twice) about personally being a victim of terror.

Netanyahu did not say a word about the two-state solution. It was his way of making it clear that there is nothing to talk about: Neither principles nor parameters nor an agreement. The old Netanyahu maintained a two-state façade. The Bar-Ilan speech reflected the depth of his fear of Obama. His response to Kerry's speech was his final declaration of liberation from that fear. Obama is leaving, and the Bar-Ilan speech is leaving with him.

Indeed, the two-state solution is dead, or has at least entered a deep freeze. Only unusual, traumatic circumstances, or a horrible disaster, will be able to revive it. Netanyahu should be given credit for the termination process, and the Palestinians deserve an equal credit. The agreement is not the only thing that is dead—so is the faith that an agreement will ever be reached.

The settlements are a different story. All the US administrations, since 1967, have seen them as illegal. President George W. Bush was considered one of the greatest friends Israel ever had in the White House. Bush was particularly close to Ehud Olmert when he served as prime minister. "Just don't ask me to help you fund the evacuation of settlers from the West Bank," he told Olmert in one of their conversations. "The settlements are illegal. The United States will not compensate you for their establishment."

The six principles specified by Kerry are, more or less, what will stand at the basis of any agreement, if an agreement is ever reached. There is no great novelty in them. Ironically, they are more difficult for the Palestinians than for Israel. In the past, the Palestinians would have rejected such speeches out of hand. Now, the Palestinians are keeping a low profile and Israel is tweeting first. Donald is the king of Israel.