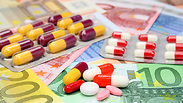 Archive
Photo: Shutterstock
106 new drugs and treatments added to healthcare basket
With a significantly bigger budget, this year's list of government-subsidized medicine and treatments includes new drugs for cancer and diabetes patients, as well as Parkinson's treatments, early treatment for HIV and even emergency morning-after pills that can be used up to 5 days after intercourse. Emergency treatment in case of a snake bite or scorpion stings was left out, however.
The Health Ministry announced on Tuesday the 2017 healthcare basket—a list of government-subsidized medicine and medical treatments.

This year, 106 drugs, chemical preparations and new technologies have been added to the list, benefitting over 85,000 new patients.

The healthcare basket committee had a budget of NIS 460 million—NIS 160 million more than the budget in recent years. It was headed by Shaare Zedek Medical Center Director Prof. Jonathan Halevy. It also included the Director of Medical Technology and Infrastructure Administration at the Health Ministry, Dr. Osnat Luxenburg, as well as representatives from the HMOs, the Health and Finance ministries, and representatives of the public.

Over the past few months, the committee discussed some 700 drugs, chemical preparations and new technologies priced at a total of over NIS 2 billion. Part of its budget, NIS 40 million, was allocated to Health Minister Rabbi Yaakov Litzman's dental care reform, which will include free dental treatments to children until the age of 15 starting next week.

The committee's recommendations will now be submitted to the health minister and to the Health Council, and later be brought to the government for approval. The full list will be available to the general public in several weeks.
Half of the budget dedicated to cancer patients
Some 50 percent of the healthcare basket's funds were allocated to cancer treatment. One of the more significant additions this year is the immunotherapy drugs (which bolster or suppress the immune system) Keytruda and Opdivo for lung cancer patients who have a protein expression indicating the drugs may be useful to them.
Keytruda will be given to certain patients as a first option of treatment while Opdivo will be given as a second option of treatment. For some patients, these drugs could replace chemotherapy, which has serious side effects.
In addition, the drug Lynparza for treatment of patients with some mutations of ovarian cancer, which costs NIS 1.5 million to add to the healthcare basket, was also included, alongside Avastin to treat cervical cancer patients at moderate and high risk levels, which costs over NIS 3 million.
The committee also approved medicine to treat patients at an advanced stage of kidney cancer, melanoma and head and neck cancer. In addition, the committee allocated NIS 64 million for treatments to some 210 myeloma (cancer of plasma cells) at advanced stages.
The quick developments in cancer treatments and the clinical trials that found these medicine could either extend a person's life or save it on the one hand, and the expensive cost of the new drugs on the other hand, have created a complex challenge for the committee.
Diabetes
The committee decided to approve the drugs dapagliflozin and Jardiance (empagliflozin) for patients with type 2 diabetes who are or have been affected by cardiovascular diseases.
Last month, the US Food and Drug Administration approved Jardiance for this application after it was proved that the drug not only successfully lowers blood sugar levels, but also significantly reduces strokes and cardiac events in patients who are taking it.
Some 34,500 persons living in Israel meet the criteria for the medication, which has received a budget of more than NIS 30 million from the basket.
Cardiovascular disease
The committee decided to approve the purchase of artificial heart devices that can be used temporarily by patients until a suitable donor can be found. There are currently about 10 such patients in Israel, and the cost of each device is over NIS 800,000.
In addition, it was decided to also include medicines for patients with heart failure. However, two drugs that significantly reduce bad cholesterol, Praluent and Repatha, remain outside the basket, even though cardiovascular disease are the second highest cause of death in Israel after cancer.
Parkinson's disease
After a struggle of more than five years, the Duodopa device for those suffering from Parkinson's was included in the healthcare basket. The machine administers medication for the disease directly to the small intestine through a tube with the help of a pump, and it is intended to help patients at an advanced stage of the disease who no longer find traditional drug administration effective.
The device has received a high ranking in recent years, but the comprehensive cost for the approximately 120 patients who need the device amounts to more than NIS 21 million.
HIV
To date, the National Health Insurance Law stipulated that drug treatment for HIV-positive patients would only be covered when their health was poor. That is, when their CD4 count was under 500. Now, treatment will be covered for all those who carry the virus at any CD4 count at the discretion of the attending physician.
Emergency contraception
A form of emergency contraception, also known as the morning-after pill, that can be administered for up to five days after sexual intercourse has also been included in the basket for women over the age of 20 with a physician's prescription and a payment of NIS 16. The committee had considered completely eliminating the deductible, but chose to leave it, believing that the $1.04 charge would help to avoid promiscuity and also to prevent sale of the pill on the grey market.
Ovarian tissue transplant treatments to improve fertility will be included, while abortion funding for women over the age of 33 were not, unless the termination is for medical reasons.
Additional medication to treat Short Bowel Syndrome along and various orphan drugs were also approved. Genetic testing for various groups of Jews, Arabs and Druze were also included in the basket. The committee included hearing aid assistance for patients between 31 and 50. As in previous years, drugs for the treatment of Hepatitis C were included.
The committee did not elect, however, to include emergency room treatment of scorpion stings, snake bites or dog bites. Though essential, these treatments were considered too expensive, costing over NIS 2 million.