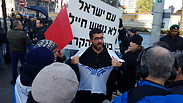 Protesters outside the court
Photo: TPS
Some 400 protesters rioted and clashed with police outside the Kirya IDF headquarters in Tel Aviv on Wednesday both before and after Sgt. Elor Azaria was convicted of manslaughter after shooting dead a seriously wounded terrorist in Hebron.
At least four of the protesters were arrested for disrupting the peace, with one also being suspected of attacking a police officer.
Protesters, some of them masked, included members of the far right-wing Lahava group, Beitar Jerusalem soccer fans, and members of the criminal, soccer fan group La Familia.
The protesters ran onto the road on Kaplan Street outside the Kirya's main entrance, blocking it temporarily in both directions.
Several of the protesters incited against the IDF chief of staff, Gadi Eisenkot.
Incitement against the IDF chief
Channel 2 aired footage of some protesters chanting "Gadi, Gadi beware, Rabin's looking for a friend," referring to the Israeli prime minister who was assassinated.


They also confronted with police officers who were trying to take away the support signs they brought with them, while every piece of information coming out of the courtroom led to shouting and shoving, with protesters pushing the barriers put by police.