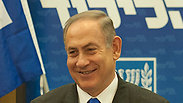 Prime Minister Benjamin Netanyahu was questioned under caution Thursday evening for the second time this week.

He underwent five hours of questioning on the suspicion that he received illicit benefits from various businessmen.

The questioning also touched on another case which has to do with another, as yet unidentified suspect.

Earlier, Amnon Abromovitch of Channel 2 said that regarding the police are looking into suspects such as businessman Arnon Milchen, who gifted hundreds of thousands of shekels worth of cigars to the prime minister over the last seven to eight years.

Details of the second case are yet to be revealed.

Netanyahu has insisted that nothing will be found.