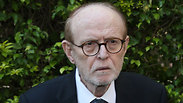 PM's lawyer
Photo: Yariv Katz
PM's lawyer says no substance to graft allegations
Police are questioning Netanyahu along two lines of inquiry: accepting gifts from businessmen, which is considered secondary, and a more significant matter which is currently shrouded in mystery; the prime minister's lawyer tells the press that there was nothing criminal in someone receiving cigars as gifts; Netanyahu has allegedly received cigars and pink champagne for his wife worth hundreds of thousands of shekels from Hollywood mogul Arnon Milchan.
A lawyer for Prime Minister Benjamin Netanyahu said on Friday that there is no substance to allegations he improperly accepted gifts.

Yaakov Weinroth, speaking to the press from his home's yard in Ramat Gan, added that there is "no scrap of crime" in someone giving his friend cigars as a gift. He explained that he was unable to directly address the content of the questioning, as it constitutes part of an ongoing police investigation.



He spoke a day after Netanyahu was questioned by police for a second time in a case that local media say arose from allegations involving high-profile figures in international business and Hollywood. Police said Netanyahu was questioned about suspicions that he "allegedly received benefits" as well as about another undisclosed matter.

The cigars constitute one of two lines of inquiry, the details of which remain confidential at this time. In this line of inquiry, the prime minister has allegedly received gifts of cigars and alcohol from billionaire businessman Arnon Milchan worth hundreds thousands of shekels. Milchan is a Hollywood mogul who holds just under 10% of the shares in Israel's Channel 10.

Those close to Netanyahu have maintained that these gifts were not illicit and not intended as bribes, but rather gifts freely given that needn't have been reported. Channel 2 journalist Amnon Abramovitch reported on Thursday that Milchan had been providing the cigars to the prime minister for 7 to 8 years. He revealed that the cigars were Cohiba Siglo VIs, Trinidads, and Montecristos. Abramovitch stated that the price for each cigar is between 100 to 200 shekels.

The alcohol that the Hollywood producer allegedly sent to the Netanyahu residence was for the prime minister's wife, Sara Netanyahu. Abramovitch explained that Milchan sent large quantities of pink champagne, costing 300 to 400 shekels a bottle.

In reply, sources close to the prime minister pointed out that Sara Netanyahu is not being investigated in this matter and that the prime minister is trying to close down Channel 10.

The other line of inquiry is reported to be considerably more significant, but it remains cloaked in mystery whilst the authorities continue their investigation.

Netanyahu has repeatedly denied wrongdoing, portraying the accusations as a witch hunt against him and his family by a hostile media.

Weinroth said in his statement to the press, "Any reasonable person understands that if a close friend brings his friend cigars as a gift there is not and cannot be any shred of prohibition, any trace of criminal offence."

He said that after hearing Netanyahu's statement he is "calm." He reiterated Netanyahu's position that the allegations are "baseless."