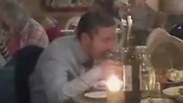 Israeli diplomat Shai Masot
Video showing Israeli diplomat plotting takedown of UK ministers causes uproar
Footage from an undercover Al-Jazeera reporter shows Israeli diplomat Shai Masot talking to Maria Strizzolo, former aide to British education minister, about 'taking down' parliamentarians considered anti-Israel in their views.
A video showing an employee at the Israeli Embassy in London saying he wishes to "take down" various British parliamentarians considered to be against Israel caused outrage in the United Kingdom over the weekend, The Guardian reported.

The Israeli Embassy in the UK was quick to issue an apology, with Israeli Ambassador Mark Regev personally apologizing to Deputy Foreign Minister Alan Duncan, who was one of the parliamentarians "targeted" by the employee.

Another prominent Conservative named by the Israeli Embassy worker was Crispin Blunt, chair of the Commons Foreign Affairs Select Committee and a vocal Palestinian supporter.

Embassy spokesperson said "the Embassy views these statements as completely unacceptable."

The video, recorded by an Al-Jazeera reporter posing as a pro-Israel advocate, shows embassy employee Shai Masot speaking to Maria Strizzolo, a civil servant who was formerly an aide to Conservative Minister Robert Halfon.

Strizzolo, discussing with Masot how to discredit MPs says in the video: "Well, you know, if you look hard enough, I'm sure that there is something that they're trying to hide." Later she adds: "A little scandal, maybe."

Strizzolo boasts that she helped her boss, MP Robert Halfon, secure a promotion when he was appointed the education minister. Masot asks her whether she could also achieve the opposite effect. "Can I give you some MPs that I would suggest you would take down?" he asks, without elaborating what that entailed.

Masot adds that she knew which MPs he was referring to, and when Strizzolo asks for clarification, he replies "the deputy foreign minister."

"I thought we had, you know, neutralized him just a little bit, no?" Strizzolo asks. Masot answers: "No."

Masot is also heard in the video calling British Foreign Minister Boris Johnson "an idiot."

Masot's business card says he is "a senior political officer" at the embassy who, according to his LinkedIn page, has worked there since November 2014. He describes his role at the embassy as being the chief point of contact between the embassy and MPs and liaising with ministers and officials at the Foreign Office. He was also a major in the IDF between 2004 and 2011.

The Al-Jazeera reporter pretended to be a pro-Israel activist from June to November of last year and recorded conversations that include a wide range of pro-Israel activists, British politicians and Israeli embassy staff.

The recordings form the basis of four half-hour documentaries that al-Jazeera is to broadcast starting January 15.