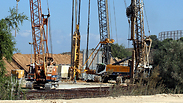 Barrier construction
Photo: Roee Idan
Minister of Defense Avigdor Lieberman has approved a budget allocating NIS 3.34 billion for the construction of a barrier on the border of the Gaza Strip and Israel, which is meant to block Hamas from tunneling under the border.

According to a document on the matter, the funds for the project will come from "an external budget within the Ministry of Defense."

Barrier construction in the Gaza Strip

The document issued by Lieberman's office is meant to provide assurance to the residents living in communities on the Gaza border, who feared that the project would not materialize due to budgetary constraints.

The project is one of the biggest and most expensive undertaken and is meant to be combined with several other measures along the 64 kilometer border.

A "smart" fence—similar to the fence on the border with Egypt—with concrete walls stretching underground, will also be able to detect tunnels and will be equipped with offensive and defensive capabilities.

The project is being led by the IDF's Southern Command in cooperation with private firms. Currently, the project is in initial stages, but is expected to move into advanced stages in the coming months.

The Gaza Division has already begun preparing for construction, which is expected to be completed within two years and bring large amounts of equipment and workers to the area.

During his last visit to the Gaza region, Chief of Staff Lt. Gen. Gadi Eizenkot called the plan "the flagship project of the IDF and the security establishment."

An official within the Southern Command said, "The barrier will provide a significant response to the tunnel threat, but it won't provide 100 percent success and there is no substitute for IDF soldiers in the field."

MK Haim Jelin (Yesh Atid), a resident of the border-adjacent Kibbutz Nahal Oz and the former head of Eshkol Regional Council, said "The construction of this barrier is a necessary, important step and is required to end the threat of the tunnels and provide security to the residents of the area. The pressure I exerted for the construction of this project is beginning to show results. Minister of Defense Lieberman has proved how important this project is to the security establishment and made the budget possible."