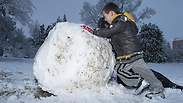 Children playing in the snow
Photo: Effi Sharir
Residents of Kibbutz Manara in the Galilee reported snowfall on Monday, despite the fact that it had yet to have settled by Monday evening. Meanwhile, rain is falling across Israel and snow is gathering on Mt. Hermon.

Marketing Manager Adele Edri at the Manara Cliff site, said that the snow "was a truly breathtaking sight. Though it isn't settling yet, it'll be wonderful if it does. The cable car isn't working now, but everyone can still come and enjoy the snow."

Snow falls on Manara (צילום : צוק מנרה)





Kibbutz Ortal also responded with manic exultation at the sight of snow. Neta Niron, who runs the kibbutz's marketing company Ortal Tourism, said, "We waited with our breaths held from the beginning of the season and now it's here. This white stuff really gets you going. I hope it'll paint over the whole site, and I invite everyone to come get a taste."

Snowfall on Manara (צילום: אביהו שפירא)

Fares Elshaer from the Druze town of Majdal Shams explained that "The snow purifies the ground, especially in apple and cherry orchards, but also for us. We feel a calmness when snow falls and the entire area is covered in white. The color is a symbol of purity from all the pollution that builds up over the year, so we can never wait for it to fall."