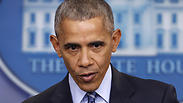 US President Barack Obama warned in an interview broadcast Tuesday that "unfettered support" for Israel's settlement policies would lead to a "worsening situation" over time between Israelis and Palestinians.

Obama spoke to the Israeli TV program "Uvda" in an interview broadcast Tuesday, as he prepares to hand off to President-elect Donald Trump, who has indicated he will be more accepting of Israel's expansion of settlements. Trump's pick for ambassador to Israel David Friedman is an outspoken settlement supporter.

"If the notion is that unfettered support for Israel or more specifically support for the Netanyahu government's policies—no matter what they are, no matter how inimical they may be to the prospects for peace—if that's what qualifies as a good friend, then I think that we will see a worsening situation over time," Obama said during the interview, filmed in Washington last week.

"Increasingly what you are seeing is that the facts on the ground are making it almost impossible, at least very difficult, and if this trendline continues - impossible, to create a contiguous, functioning Palestinian state," the president added.

"Bibi says that he believes in the two-state solution and yet his actions consistently have shown that if he is getting pressured to approve more settlements he will do so regardless of what he says about the importance of the two-state solution," Obama said, referring to Netanyahu by his nickname.

The Obama administration declined to veto a UN Security Council resolution condemning settlements last month, infuriating Netanyahu.

Obama defended the abstention in the interview, saying "I believe it was the best move for peace."

The expansion of Israeli communities in lands the Palestinians want for their future state is seen by some as an obstacle to peace. Israelis however, point to the Palestinians' refusal to accept Israel's existence as a Jewish state and Palestinian leaders' consistent incitement against its citizens and security forces.