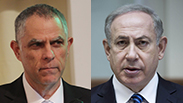 Netanyahu and Mozes
Photos: Alex Kolomoisky, AFP
Netanyahu-Mozes affair: Everyone is a suspect
Op-ed: The reports about meetings between the prime minister and the Yedioth publisher are hard to process for the newspaper's editors and writers, who are doing an excellent job fearlessly free of bias. A prime minister can complain to a publisher about articles published in his paper, but he can't dictate a line. A publisher can't promise to emasculate his writers: That won't happen, not in real life.
Everyone is a suspect: The prime minister, who—according to the reports—initiated the meetings; the publisher, who—according to the reports—negotiated and promised; the bureau chief, who participated in the alleged meetings and recorded them; the attorney general, who is playing the poker game around the investigations involving the prime minister in distorted ways.

And I am a suspect too, not just because the aforementioned publisher is my breadwinner, but also because I have an instinctive appreciation—unless proven otherwise—for someone who instead of sinking into self-pity and complaining, fights tooth and nail for his livelihood and his employees' livelihood. For the same reason, I have a lot of appreciation for Haaretz publisher Amos Schocken.

I don't know what happened in the conversations between Benjamin Netanyahu and Arnon Mozes, which were apparently secretly recorded by Ari Harow, who served as the prime minister's bureau chief at the time. Attorney General Avichai Mandelblit would do well by ordering the police to release the recordings for publication. That way, we would know what was said in them, how it was said and what it means for the public.

After the people who participated in the conversations have been questioned under caution, there is no reason left to keep them confidential. All the more so as in the current reality, the content is leaked bit by bit, and even the journalists who cheerfully publish details have no idea whether the information they have received is true or not. Once the tapes are aired, we will know what we are talking about.

The troubling thing here is not the actual meetings. There have always been meetings between publishers and prime ministers, even face to face. It's a shame that Netanyahu doesn't hold such meetings more often.

The troubling factor is that these meetings were held during a period in which the newspaper harshly criticized Netanyahu, and Netanyahu described its publisher as a multi-headed monster who secretly controls all the government systems through dark means. Superman on the one side, and Lex Luthor on the other side; Harry Potter on the one side, and Voldemort on the other. It's hard to imagine Netanyahu and Mozes gathering the amount of trust required for a deal at the same time, especially a deal which could embroil them in a criminal investigation.

Even more troubling are the two sides' expectations—assuming there is a grain of truth in the reports. A prime minister can complain to a publisher about articles published in his paper, demand a correction, blast reporters. He cannot dictate a line. That may be possible in Turkey, but not in Yedioth. And a publisher cannot promise to emasculate the writers in his newspaper—that won't happen, not in real life.

Neither can he promise, as Channel 2 reported on Tuesday evening, that he will do anything to ensure that Netanyahu remains in the prime minister's bureau. What was discussed in the prime minister's bureau, if it was indeed discussed, remains in the prime minister's bureau.

The reports that are being published are hard to process for the newspaper's editors and writers, who are doing an excellent job fearlessly and unbiasedly. They are difficult for me too. Nonetheless, I can only praise the work being done by our colleagues: In this profession, there are no favors and there is no leniency. That's the way it should be.

To the readers who asked me this week, both in writing and orally, why I hadn't expressed my opinion about this affair, I said that I did not know anything beyond what had been published. That didn't stop you, they told me, from expressing your opinion on other affairs. They were right, except for one thing: The reader assumes that when a journalist talks about his workplace, he knows more than he usually knows. That is not the case this time. In this affair, all those who have been questioned under caution are forbidden to discuss their investigation for fear of its disruption. Had I turned to Arnon Mozes, and I didn't, I would not have received an answer.

The work procedure which Arnon Mozes has adopted with me—and with others too, as far as I know—is simple: He doesn't call. Neither do I. I have been working in the newspaper for 28 years, and until this very day he has not expressed his opinion to me on a single word I have written, has not asked to remove anything and has not suggested any additions. I am grateful to him. Not every publisher would act the same way.

The newspaper can, of course, hire the services of other columnists with a different professional approach and different opinions. I'm happy to say that the newspaper is doing just that. The more opinions, the more writers, the better.

Now that I have clarified my part in this story, let's get to the substance. The investigation in this case has one positive result: It has made it clear to everyone that the initiative called Israel Hayom is not a legitimate business but rather a forbidden gift. When Netanyahu negotiates on behalf of the free newspaper, he basically admits that it is an asset controlled by him.

We have heard a lot in recent days about the sums spent in the secret gift system established for Netanyahu and his family by Arnon Milchan and others. The sums are impressive: There was a report of NIS 300,000 (nearly $78,000); there was also a report of NIS 400,000 ($104,000). All these sums are nothing compared to the forbidden gift Netanyahu received from casino magnate Sheldon Adelson. According to a Haaretz report on Tuesday, Adelson lost NIS 730 million on the newspaper in its first seven years—about NIS 100 million a year.

Imagine what the government could do with such a sum: Solve the hospital density problem once and for all, establish a university in the Galilee, get thousands of Israelis out of the poverty circle. So much money just to organize a cult of personality for one family and sabotage free press in Israel. Isn't it a pity?

Adelson is of course entitled to do what he wants with the money of the gamblers in Macau, but Netanyahu gets his salary from the state. There are gifts he is not permitted to accept, especially as there was an alleged return: During the battle over the gas deal, Netanyahu received a letter from Adelson urging him to reach a compromise with the Noble Energy company. Netanyahu did just that.

When the free newspaper was founded, nine years ago, the different gatekeepers—in the State Attorney's Office, in the Treasury, the state comptroller, the Knesset members—preferred to bury their heads in the sand. I wrote that such a product has no economic model and cannot have an economic model. They saw the market dumping, and the dumping prices for ads, and did nothing. The fact that Haaretz, a newspaper with a lot of influence on the legal system and on the regulators, printed the free newspaper in its printing house, contributed to the repression. The deciding factor was, possibly, the extent of the impudence: The government gatekeepers may be able to deal with small gifts somehow, but not with gifts of such magnitude.

This week, when Netanyahu needed advocates in the gift affair, Jewish American lawyer Alan Dershowitz came to the rescue. He explained that everything was fine, everything was legal, everything was wonderful. In an interview to Channel 10 News from New York, he was presented as Netanyahu's "associate." They left out the fact that Dershowitz was hired by Sheldon Adelson about a year ago to defend him in a lawsuit filed against him in Las Vegas. What a small world.

And one last footnote in this affair: When the Knesset engaged in a heated debate over the law trying to force Israel Hayom to compete against other newspapers by outlawing free daily papers, Meretz Chairwoman Zehava Gal-On voted against the law. I was surprised by her vote. I thought Gal-on would realize how much damage this sweeping gift was causing to the strength and actual existence of the democratic game. How will Meretz exist in a state which has no free, strong and critical press? But apparently, it's much easier to preach against cigars.

Arnon Mozes is the publisher and owner of the Yedioth Ahronoth Group, which includes Ynet. The article was published Wednesday in Yedioth Ahronoth.