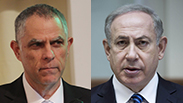 Mozes and Netanyahu
Photos: Alex Kolomoisky, AFP
Channel 2 published on Friday night new quotations from the conversations between Prime Minister Benjamin Netanyahu and Yedioth Ahronoth publisher Arnon Mozes.

The transcript as released follows:

Arnon Mozes: What's the bottom line? How can it be done quickly?

Benjamin Netanyahu: It can be legislated. I wanted to talk with the ginger (Sheldon Adelson); he's going to be in the country in another two weeks.

AM: One needs to see how something can be done that he'll be able to live with. Maybe make another law. I want to make things easier. I'm not looking to make things harder.

BN: How?

AM: On the subject of the quantities that we discussed. Make it a compromise with him. I'm saying this from a good place, not from a bad place.

BN: I think that it'll be okay with him, but…

AM: One needs another law that would bypass the problem.

BN: Somebody has to come up with a proposal. I've already spoken with someone.

AM: With Yariv (Minister Yariv Levin).

BN: Not with Yariv.

AM: Bring whomever you want. It's not my business. Eitan Cabel needs to come and your person in the Knesset.

BN: And that Eitan should say that I want to reach a compromise. Maybe we'll convince him (Cabel). To come off a sweeping law.

AM: Which Knesset committee is it going to?

BN: We'll set up a special committee.

The above interchange was said regarding the possibility of legislating a law against Yisrael Hayom in exchange for sympathetic coverage in Yedioth Ahronoth. In addition, it was reported that "it turns out that the prime minister really brokered between businessmen, apparently from Germany, an international group of businessmen and Mozes with a goal or to purchase the media empire of Yedioth Ahronoth or to join it as partners."

Arnon Mozes is the publisher and owner of Yedioth Ahronoth Group, which includes Ynet.