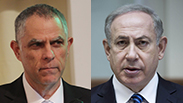 Netanyahu and Mozes
Photos: Alex Kolomoisky, AFP
The publisher of Yedioth Ahronoth, Arnon (Noni) Mozes, arrived Sunday morning at Lahav 443 special investigations unit to be questioned under caution once again on Sunday morning over alleged conversations that took place between him and Prime Minister Benjamin Netanyahu, according to reports last night on Channel 10. Channel 2 published more quotes from the apparent discussions between the two, which mentioned the names of journalists in Yedioth Ahronoth and others.

The following is a transcript of a conversation that is reported to have taken place.

Benjamin Netanyahu: We're talking about moderation, about reasonable media, lowering the hostility level towards me from 9.5 to 7.5.

Arnon Mozes: It's clear to me. I got it. We need to make sure that you'll be prime minister.

BN: I think that we need to be worried for the country.

AM: I told you that fortunately, you're the crazy guy who wants to be prime minister, so good luck, go for it.

AM: Give me a rightist; I've been telling you this for a while now.

BN: I can't invent one. Hagai Segal—Sheldon took him to be an editor at Makor Rishon.

AM: Navigating the media is a profession.

AM: Bring me someone who can write articles tomorrow morning. Come on, bring me. From tomorrow, not related to anything, before the law, before everything. I'm trying to show you good will. Bring me.

BN: Take that guy, that soccer player, Avi Ratzon

Mozes expressed his disagreement, according to Channel 2 reporter Guy Peleg.

BN: What do you care?

AM: Forget about it. I need to save you from yourself. We need someone who can write articles in the middle of the week. Give him (Ari Harow) 2-3 names, and we'll contact them, but we need to check with them that they've never publically commented on the law.

BN: Every day; what's that woman's name?

AM: Sima (Kadmon)?

BN: "Every day there's somebody who's killing me. What's his name? Abramovich. (Amnon Abramovich)

AM: We talked, and we said that if we get along, you'll need to find a way, and it's not complicated—Nahum (Barnea).

BN: What about Amnon?

AM: I don't even want to start arguing with you if he works for me. Does that one work for me? Can you tell them what to do? Come on, he wants Barak to come back. That's what he wants.

BN: Okay, Amnon will be balanced.

AM: No, no, I can take responsibility for our people. Sima and Nahum—that's your job. There's going to be an earthquake here. We have to be smart about how we do it."

AM: There will be an earthquake; it's something that needs to be done wisely.

On Sunday morning, the editor in chief of Yedioth Ahronoth, Ron Yaron, issued a response to on the matter to the paper's readership in the Yedioth Ahronoth newspaper under the title of "When the home shakes."

Hello,

My name is Ron and I have been the editor in chief of Yedioth Ahronoth for five years. Prior to this, I was the deputy editor in chief and before that I was the political features editor and head of the news broadcasting. I have worked for almost 25 years at Yedioth Ahronoth and I insist that it is a home.

Last night, it became clear to me that I am not only the editor in chief of this important and influential newspaper in the country. I am also the one who holds the Richter scale. I am responsible for the 'earthquake that is going to happen here.' Or, more correctly, for that which could have happened here in Yedioth Ahronoth, if someone had tried to change the line of the newspaper.

The home of Yedioth Ahronoth, also the old one in Tel Aviv and, of course, and the new one in Rishon LeZion, is well built. Not only the building, but the also the people who work there.

That is why I appreciate the 10 (magnitude) earthquake about which Mozes spoke—that which has 'not yet been described in writing.' Certainly not in the pages of Yedioth Ahronoth. In other words, there is no way that this newspaper could have survived this earthquake. All of us, as one person, would have left and looked for a home elsewhere. In that case, Yedioth Ahronoth would not have been the newspaper that you all hold in your hands at the moment.

My publisher knew this, and that is why it was not by chance that he chose the words 'earthquake.' You also, our cherished readers, need to know that. We, the editors and writers, are loyal first and foremost to you—and only after to the person who pays our salary.

Noni Mozes has shown boundless loyalty to the readers of the newspaper and to his life's work, which was founded by his father and grandfather 77 years ago.

And still, I don't intend to glamorize the situation of to soften it. The publications, if they are accurate, in relation to meetings with the prime minister, are extremely difficult.

I only want to say one thing: Hundreds of people have worked on the newspaper that you read to ensure that it is the best, most interesting and most important and the most professional. I can also promise, in everyone's name, that we have done, and will continue to do, our journalistic work in the best possible way, in the most (ethical) way and the fairest way.

It is true that we have made mistakes too, but this is my responsibility that free and decent press is also seen here.

To everyone who is seeking to understand who is against who in this maze of publications, I want to draw the comparison between the work of the newspaper to an art gallery.

The owner of the gallery is the owner. The manager of the gallery is the editor. The pictures that are hung in the gallery are drawn by the the writers. We, the editors, decide in what order they will be displayed in the gallery—which stands out the most, and which less so. Sometimes, we don't have the full picture. Let's say, something more vivid in the colors, the rest of the picture is a little dark. In this case we ask for a new picture.

But, and it is a big but, in reality the owner of the gallery has no influence on the pictures or their place on the wall. The most he can do is fire the manager and all the painters and replace them with new people. And as long as that has not happened, rest assured that this gallery is managed and looks great.

Last night, I went to the news desk of the paper, several minutes after the news broadcasts. All of the editors, journalists and designers worked all night on the paper you are reading now. After three pages dedicated to the Netanyahu-Mozes affair, you will find dozens of other items on a variety of subjects with another four supplementary papers: '24 hours,' 'Mamon,' 'Sport' and a (health magazine). They are all full of brilliant, interesting and professional journalistic material.

I am not trying to say that it is business as usual, and I am also not hiding the fact that there is a sense of deep unease in the air and in all of our hearts. With that, we will continue to work with a strong conviction, that we are painting every day, including today, a new 'Mona Lisa.'

Arnon Mozes is the publisher and owner of Yedioth Ahronoth Group, which includes Ynet.