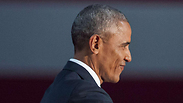 President Obama
Photo: AFP
Obama: No rupture in US-Israel relationship
During his final interview as president, Barack Obama denied that any serious damage had been caused to the relationship, despite his decision to abstain from the UN Security Council vote last month on West Bank and eastern Jerusalem construction; Netanyahu got 'fired up repeatedly during the course of my presidency,' Obama said.
US President Barack Obama played down fallout from a US abstention on a United Nations resolution last month demanding an end to Israeli settlements in the West Bank and eastern Jeruslem, saying it did not trigger a significant break in relations with Israel.
Relations between the United States and Israel, which have soured during Obama's eight years in office, reached a low point late last month when Washington, defying pressure from longtime ally Israel and President-elect Donald Trump, declined to veto the UN resolution.
After the December 23 vote, Prime Minister Benjamin Netanyahu described the US move as "shameful" and accused the Obama administration of colluding with the Palestinians in the UN move against the settlements. The White House denied the charge.
"I don't think it caused a major rupture in relations between the United States and Israel," Obama said in an interview with the CBS program "60 Minutes" airing on Sunday night, according to a transcript provided by CBS.
"If you're saying that Prime Minister Netanyahu—got fired up, he's been fired up repeatedly during the course of my presidency," the president said with a a small giggle.
Trump has pledged to pursue more pro-Israeli policies and to move the US Embassy from Tel Aviv to Jerusalem, all but enshrining the city as Israel's capital despite international objections.
Obama, who leaves office on Friday, said Israel's settlements had made it harder to imagine a contiguous, effective Palestinian state, seen as key to a long-sought two-state solution to end the Israeli-Palestinian conflict.
The Palestinians want an independent state in the West Bank, Gaza and East Jerusalem, areas Israel captured in the 1967 Six-Day War when surrounding Arab armies attacked, or were poised to attack Israel.
Israel disputes that settlements are illegal and says their final status should be determined in any future talks on Palestinian statehood. The last round of US-led peace talks between the Israelis and Palestinians collapsed in 2014.