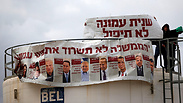 Members of the far-left NGO "Yesh Din" submitted their objections to the civil authorities in the West Bank over plots where new houses for Amona residents are due to be built.

The complaint was submitted by the Israeli NGO on behalf of Palestinian land owners, placing the mechanism facilitating the voluntary evacuation of the Amona outpost in jeopardy.

The Yesh Din complaint is based on Palestinian objections that four of the plots are being used to temporarily house the Amona residents.

The complaint states: "This attack on the property rights of the (Palestinian) residents of Silwad, protected residents of occupied territory, who are protected under conditions stated by the High Court of Justice's ruling ordering the eviction of trespassers and those who illegally build on private property, isn't lawful, and only seeks to protect the government."

The process of building new homes for the evicted Amona residents began last week. The plots which were decided upon were done so out of consideration for Palestinian land owners. Once the plots were announced, land owners had 96 hours to petition the location of the designated land in the case that they were, in fact,on private Palestinian land.

Yesh Din sought out Palestinians who claim private ownership, and were able to petition the construction of the structures.