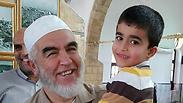 Hundreds of residents of the Israeli-Arab town of Um al-Fahm joyously welcomed the release and return of Sheikh Raed Salah, head of the Islamic Movement's Northern Branch on Tuesday.

He was released from Ramon Prison after being convicted and serving a nine-month prison sentence for incitment to violence and racism in a sermon he delivered in Jerusalem in 2007.

Children greet the sheikh, promise to sacrifice their lives for al-Aqsa

"I got on the bus and went to the Hasan Bek in Jaffa. People there welcomed me, and after staying there for an hour, I went to Um al-Fahm," Salah said.

Among those who joyfully greeted the sheikh were crowds of children, who anxiously waited while waving Palestinian flags and calling out: "We will sacrifice our lives for al-Aqsa."

Salah's niece Muntah expressed her excitement at the sight of her uncle. "We're all waiting for Sheikh al-Aqsa (Salah's nickname). We're proud of him, he's a hero! I'm sad that they've tried to attribute things to him which aren't true, and thank God we all know that this is all being done to persecute and humiliate him. Thank God that the sheikh is strong and will stay strong, and all of the arrests in the world won't deter him, Muntah said."

The Former Mayor of Um al-Fahm Sheikh Abdel Rahman said that "every resident of Um al-Fahm is happy that Raed Salah was released. We are holding a festival for him here on Friday, and thousands are expected to attend."

Ahmed, a resident of Um al-Fahm, said "we need to stop this persecution of Sheikh Salah. This is a clean and respected man—he is far from an inciter. Just because he talks about al-Aqsa doesn't mean that he is an agitator, just that he is warning against harming the mosque. We (Muslims) are also prohibited from harming al-Aqsa."

The police said last week that there is evidence pending against Salah, and that he may need to be put on trial for incitement to violence and supporting the activity of an unlawful organization.

A statement from the police says that this recent investigation began in the wake of reports in the media, social media, and other websites that Salah admitted to being part, and leader of, an outlawed political movement—after the movement was banned in Israel for its common practice of incitement to violence.