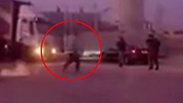 The terrorist circled in red
A terrorist attempted to carry out a stabbing attack at a checkpoint near Tulkarm early Tuesday evening, but he was killed by IDF soldiers before he could wound anyone.

The terrorist's foiled attack

According to IDF sources, the terrorist ran at soldiers at the 104 Crossing checkpoint with a knife drawn.

The soldiers from the Home Front Command's Shahar Battalion identified the attacker and apparently called at him to stop. When he did not, the battalion's deputy commander, an officer at the rank of major, shot at the terrorist and killed him.

The crossing was closed down to all traffic following the incident.