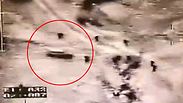 Aerial footage shows terrorist ramming into policemen
Freshly released footage filmed from a helicopter shows man deliberately accelerating his vehicle into a group of policemen in southern Bedouin village, gainsaying claims that he signalled before turning his car, that he was not a terrorist and that he was shot to death 'in cold blood'; the terror attack resulted in the death of Sgt. Erez Levi and preceded violent clashes in the area.
New aerial footage has been released proving that Musa Abu Alqiyan—the man who was shot dead by policemen on Wednesday morning in the Bedouin village of Umm al-Hiran in southern Israel—deliberately rammed his car into a crowd of security personnel.

Driver accelerates toward policemen

Gainsaying claims to the contrary made by the resident and a number of Arab MKs from the Joint List that Alqiyan was "killed in cold blood," and that he even signalled before turning his car without any intention of harming anyone, the helicopter footage clearly shows that, in fact, the terrorist deliberately accelerated his vehicle just meters from the officers.

Sgt. Maj. Erez Levi, a 34-year-old husband and father of 2, was killed in the attack.

Violent clashes broke out between residents of the village and security forces in the early hours of Wednesday morning when the latter arrived to carry out a demolition order against illegally constructed homes.

Conflicting accounts of what led to Musa's death quickly spread, with residents claiming that he had done nothing that nothing to warrant police officers pulling the trigger, while security forces insisted that he had deliberately run them over.

Israel Police spokeswoman Meirav Lapidot dubbed this a nationalistic attack, "a vehicular attack exactly as we saw last week in Jerusalem," saying "The terrorist sped up in his vehicle toward the security forces and carried out a vehicular attack on them."