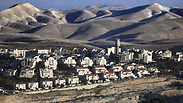 Lieberman and Netanyahu approve 2,500 housing units in West Bank
The majority of the new housing units are to be constructed in major settlement blocs and are intended to 'meet housing demands' and help life return to normal; Trump to discuss settlements with PM next month; PA opposed to decision and warn that it will 'strengthen extremism and terrorism.'
Minister of Defense Avigdor Lieberman approved 2,500 housing units in the West Bank, the majority in major settlement blocs and 100 in Beit El in accordance with a High Court decision. Moreover, additional housing units will also be constructed for residents of Migron in accordance with a previous government decision.

The decision was made between Minister of Defense Lieberman and Prime Minister Benjamin Netanyahu, who tweeted, "We are building, and we will continue to build."

White House spokesman Sean Spicer did not answer directly when asked about Trump's reaction. He said the administration is still forming its foreign policy team and that President Donald Trump would discuss settlements and other matters when Netanyahu visits next month.

"Israel continues to be a huge ally of the United States," Spicer said. "He wants to grow closer with Israel to make sure that it gets the full respect that it deserves in the Middle East."

While Trump has signaled that he will be far more tolerant of Israeli settlement construction than his predecessors, he also has expressed a desire to broker a peace accord between Israel and the Palestinians, and siding closely with Israel on such a contentious matter could hurt U.S. credibility.

Homes were approved in the following communities: 899 in Ariel, 652 in Givat Ze'ev, 260 in Tzofim, 154 in Oranit, 104 in Ma'ale Adumim, 87 in Beitar Illit, 86 in Kokhav Ya'akov, 81 in Etz Efraim, 78 in Alfei Menashe, 21 in Efrat, 20 in Beit El, 18 in Elkana, 6 in Sha'arei Tikva and 4 in Har Gilo.

Trump has already invited Netanyahu to visit the White House next month, and both men, after speaking on the phone Sunday, promised close coordination on a range of sensitive matters.

Netanyahu's office would not say whether he had consulted with the White House before Tuesday's announcement, but just a day earlier, the prime minister told a meeting of his Likud Party that there should be no surprises for the new president.

A spokesman for the office of Palestinian President Mahmoud Abbas, Nabil Abu Rudeineh, called the decision "a provocation and contempt for the international community. We oppose and condemn this move and it will have consequences. This decision delays every attempt to restore security and stability and it strengthens extremism and terrorism. This decision will throw obstacles in the way of any effort to achieve security and peace by any official. This decision is a provocation and insult to the Arab world and the international community and requires a real and serious position from the entire world."

According to the statement, the decision to approve the additional construction was taken "to meet the needs of housing and continue with daily life," said Lieberman. "Life is going back to normal in the West Bank."

Meanwhile, Lieberman also intends to present the cabinet an initiative for the construction of a Palestinian industrial zone near the village of Tarqumiyah. The industrial zone will be one of the largest in the West Bank and is set to include warehouses, fuel depots and more.

Trump has signaled a softer approach to the settlements. Earlier this week, he did not react to an Israeli announcement to build over 560 new homes in east Jerusalem.

Both his designated ambassador to Israel, David Friedman, and his son-in-law, Jared Kushner, now a top aide and Mideast envoy, have deep ties to the settler movement. Friedman and Kushner's family foundation have both been generous contributors to Beit El, one of the settlements mentioned in Tuesday's announcement. A delegation of settler representatives was invited to Trump's inauguration last week.

Oded Revivi, the chief foreign envoy of the Yesha settlers' council, said he hopes Tuesday's announcement "is just the beginning of a wave of new building." Revivi led the delegation to the inauguration, the first time the movement has received such an invitation.

Trump's ties to the settler movement are just one reason Israel's nationalist right is encouraged by the new administration.

His campaign platform made no mention of a Palestinian state, a cornerstone of two decades of international diplomacy in the region. Trump also has promised to move the US Embassy in Israel from Tel Aviv to Jerusalem, a move long favored by Israel but vehemently opposed by the Palestinians.

Since Trump took over, Netanyahu has been under heavy pressure from the pro-settler Jewish Home Party to move ahead on an explosive bill that would annex Maaleh Adumim, a major settlement near Jerusalem. A vote on the legislation, which threatens to unleash fresh violence and draw international condemnation, was put on hold this week, apparently so Netanyahu could coordinate his policy with the new US administration.

Despite the positive signs for Netanyahu, Trump remains something of a wild card. Since taking office, for instance, he has appeared to backpedal from his promise to move the embassy.

The Palestinians' representative to the UN, Riyad Mansour, sent letters of complaint to the secretary general, the president of the Security Council and the president of the General Assembly following the issuance of the building permits.

The Yesha Council actually expressed disappointment, saying, "It is too little, too late to meet the demand. After years of delays in construction, this limited decision does not answer the tremendous needs of Israeli settlement in the West Bank and the Jordan Valley. Sadly, this sham decision posing as a large approval of building permits is the same as previous occasions when only a few hundred will be built."

Yoav Zitun, Elisha Ben Kimon, Liran Levi, Elior Levy and Itamar Eichner contributed to this report.