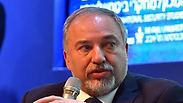 Lieberman
Photo: Ariel Hermoni/Ministry of Defense
Lieberman: 'In the next conflict—we will not stop until a white flag is raised'
Lieberman addressed the possibility of an additional conflict during an INSS conference: "The IDF's orders are to go in full force.' Lieberman also addressed the approval to construct thousands of housing units in the West Bank and said of the Palestinians: 'There is no legitimate leader with whom to make peace.'
At a conference held by the Institute for National Security Studies on Tuesday, Defense Minister Avigdor Lieberman said that the IDF's orders are to "go in full force." "If the other side doesn't yield and raise a white flag, we don't stop."
Lieberman also addressed the decision to approve the construction of about 2,500 housing units in Judea and Samaria and connected it to Donald Trump's taking office as the president of the United States: "There is nothing new about it, we have always constructed, including under the Obama administration."
Lieberman criticized Palestinian President Mahmoud "Abu Mazen" Abbas, saying, "There is no one there to actually sign a dramatic agreement with that would change reality. We need a powerful leadership with sway in the field, but Abu Mazen is not a legitimate leader."
He continued to say that "there is no Palestinian Authority. It doesn't exist. We keep forgetting the fact that the Gaza strip is ruled by Hamas and not by the PA."
"There were many good people who worked on an agreement. Why couldn't they work out the problem? It would be impossible to offer Abu Mazen more than what Olmert offered him in Annapolis, including dividing Jerusalem, rehashing the refugee issue, and the evacuation of the West Bank—everything. And what did we end up getting? A no."
Liberman was asked what he would advise President Donald Trump. "It isn't right to advise Americans. Let's not exaggerate. We are a small country and they are a world power," said Liberman and verbally attacked the European countries: "I advise the Europeans, Americans and Russians to first of all steer clear of the Israeli-Palestinian conflict. Whoever wants to help solve the conflict should first forget the excessive involvement of the rest of the world powers, mainly that of Europe. It is mostly disruptive."
Regarding the Elor Azaria case, Lieberman said, "I don't know whether the soldier did the right thing or not. That is not my job. Again, I advise everyone to accept and respect the military court's decision even if we are not very comfortable."