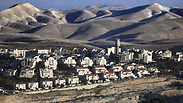 Germany, in unusually strong criticism of Israel, said on Wednesday that Israel's plan to build 2,500 more homes in the West Bank puts in doubt Israel's stated commitment to a two-state solution with the Palestinians.

Israel announced the plans on Tuesday in the second such declaration since US President Donald Trump took office. Trump has repeatedly signalled he eould likely be more accommodating toward such projects than his predecessor, former president Barack Obama.

Martin Schaefer, a spokesman for the German Foreign Ministry, said the announcement went "beyond what we have seen on it in the last few months both in terms of its scale and its political significance".

He said the German government doubted whether the Israeli government still stood by its official goal of a peace agreement under which Palestinians would get a state in territory captured by Israel following the 1967 Six-Day War and co-exist peacefully with it.

If Israel were to move away from this goal, the basis of the whole Middle East peace process would be thrown into question, Schaefer added. The last round of US-brokered peace talks collapsed in 2014.

The European Union has also warned that Israel's settlement plans threaten to undermine the chances of peace with the Palestinians.

Israeli Prime Minister Benjamin Netanyahu told parliament on Wednesday to expect more announcements on settlement-building and earlier this week told senior ministers that there were no more restrictions on construction.

"We can build where we want and as much as we want," an official quoted Netanyahu as telling the ministers.