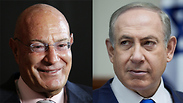 Milchan and Netanyahu
צילום: רויטרס, EPA
Billionaire Arnon Milchan has reportedly told police he had been sending "gifts" to the tune of hundreds of thousands of shekels to Prime Minister Benjamin Netanyahu for years, based on demands from the prime minister, Channel 2 reported over the weekend.

According to the Channel 2 report, Milchan told investigators that the gifts—which included cigars, champagne and jewelry—were given over the course of a long, continuous period of time.

Milchan explained that the gift-giving began as part of his friendship with the prime minister and his family and that he was eventually giving gifts solely to the Netanyahu couple.

These "gifts" were given based on specific and detailed demands, which included reminders to renew the stock of cigars or champagne.

While confirming that the accumulating worth of the gifts reached hundreds of thousands of shekels, he claimed these were not considered significant sums for a businessman of his stature.

He reportedly said the receipts for these gifts, which he presented to police investigators, were not kept as evidence, but as part of his bookkeeping.

Milchan also claimed that while the giving of gifts in this manner was unusual, they were given as part of his friendship with the Netanyahu couple and that he did not expect to receive anything in return. He added that he did not have any business interests in Israel and that the shares he owned in Channel 10 were put in a trust.

Another ongoing investigation against the prime minister concerns his alleged efforts to make a deal with Yedioth Ahronoth publisher Arnon Mozes to change the coverage of him.

As part of that investigation, Channel 2 reported on Saturday, Mozes—who also controls Ynet and Ynetnews—provided investigators with written and recorded evidence to indicate that Netanyahu had a hand in editing the free daily Israel Hayom—Yedioth's rival—as well as "negotiated matters concerning the free paper as its owner."

Police are in the final stages of both investigations. Investigators now intend to question Australian billionaire James Packer—also suspected of giving the prime minister illicit gifts—and casino mogul Sheldon Adelson—the owner of Israel Hayom. Police are also planning on questioning Milchan again.
Netanyahu attacks the media
Netanyahu took to social media on Saturday night, minutes after the report on the recent developments in the investigations, claiming the media was trying to orchestrate a "coup" against him using "fake news."
In a combative post on Facebook, Netanyahu accused journalist Dana Weiss of "unintentionally exposing the system of pressures imposed by the leftist media, which determines the limits for the attorney general and the State Attorney's Office."
Quoting Weiss, Netanyahu continued: "'You can't close a case like this as far as the public is concerned'—even if no offense has been committed! Have you heard of such an absurd thing? They are shamelessly trying to use public pressure to prevent the closing of the case at all cost."
The prime minister went on to wonder, "On behalf of which public are they speaking? The leftist media in channels 2 and 10 represents the public as much as (Channel 2 journalist) Amnon Abramovich represents the Jewish settlement in Hebron."
"Every night at 8pm they broadcast inciting propaganda against me, which is false and tendentious, with the goal of carrying out a coup, changing the regime without elections," Netanyahu continued.
"Every evening they produce fake news here," he charged, referencing US President Donald Trump's accusations towards the media in his own country.
"We won't let them, they won't succeeded," Netanyahu concluded his post.