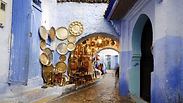 Flights from Israel to Morocco
Israel-based travel agency Flying Carpet is returning to Morocco after 13 years. The company will be launching packages for travelers fly from Tel Aviv to Marrakesh and Casablanca.

The line will begin flying in May and will operate for two months with an option to extend.

The flights will carried out by Italian budget airline Neos, and will include a short stop in Catania, Sicily, before continuing on to Morocco.

Overall flight time will be seven hours, and tickets will cost approximately $600. A full vacation package including breakfast and dinner will cost $1,199.

Flying Carpet used to fly direct between Tel Aviv and Marrakesh, but stopped in 2004 due to the Second Intifada and a low point in diplomatic relations between Israel and Morocco.


However, Israeli tour operators continued to offer packages to Morocco, flying through a third country such as Spain.

Flying Carpet has announced that planes will fly to Marrakesh one week, and alternate to Casablanca the next week, enabling tourists to begin their trips in one location and end in another.
Why stop in Sicily?
The main reason that these flights are going to be stopping in Catania, Sicily for a short period of time is because Morocco and Israel don't have a mutual flight agreement. Therefore, planes from one country are not allowed to fly directly to the other.

To get around this, the plane will land in Catania, where passengers disembark from the aircraft, receive new tickets showing the origin of the flight being from Italy, and re-board the plane, and then fly on to Morocco.

The plane's flight log will also register as only flying to and from Italy, as opposed to and from Israel.

.