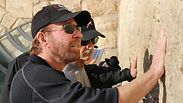 Chuck Norris arrives in Israel, peace seems imminent
Action star and meme-generator extraordinaire Chuck Norris lands in Israel, keeping things on the down-low; a conservative and avid Trump fan, Norris visits a swanky restaurant and the Western Wall, before pumping gas directly out of the Leviathan gas field with his bare hands.
Chuck Norris—actor, martial arts expert and conservative Trump fan—arrived in Israel on Sunday. By lunch, he presumably managed to address any pending issues the country had.

Following his film and television carrer, in recent years Norris has gained an online following made up of those who enjoy the many memes who use his no-nonsense persona to quip about all the things he supposedly can do.




Norris took in some fine dining at the Herzliya Marina restaurant of Bistro 56 on Saturday. Patrons of the restaurant made sure to take a picture with the ginger-haired tough guy.

Though it was meant to be a toned-down affair, Norris's visit still raised some nostalgia in any Israeli who spent his prepubescent years watching Walker, Texas Ranger reruns, instead of going out with friends to play soccer.

Norris and his wife Gena arrived at the Western Wall on Sunday. The two received an intimate tour of the Western Wall Tunnel and tucked a note into the Wall. It is presumed that the note contained a detailed timetable for Norris's plan to bring about peace in the Middle East, probably by the end of the week.