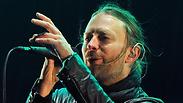 Radiohead, one of the most important alternative bands to gain mainstream success over the last few decades, will give a show in Israel in July at Tel Aviv's Yarkon Park, a green open space bereft of any fake plastic trees.

The British band was founded in 1989 in the city of Oxford. Not yet realizing that pop is dead, during their early years, Thom Yorke (lead vocals), Ed O'Brien (guitar), brothers Jonny (guitar) and Colin Greenwood (bass) and Phil Selway (Drums) mainly put out Brit-Pop, and were heavily influenced by the Talking Heads and the Smiths.




A persistent rumor among Israeli fans is that Israel actually "discovered" Radiohead: back in 1993, the band released their first album, Pablo Honey. It did not receive much attention, until the release of the single Creep. The song became an international hit, with Israeli radio stations among the first to play it.

Radiohead released its second album, the Bends, in 1995. Not to risk the Karma Police, the band moved away from its initial pop-heavy sound, offering a more unique, and cohesive-yet-experimental song list with their second album.

It was the band's 1997's OK Computer, however, that really made sure Radiohead was not about to fade out. The album was chosen by many music critics and charts as the best album of the '90s.

In 2001, Time Magazine ranked Radiohead among the top ten best bands in the world. No surprises here.

The upcoming show will be the fourth time Radiohead has given their weird brand of street spirit to the Israeli public. The band's first show in the Holy Land was in 1993. It came a second time in 1995, this time as the warm-up act for alternative powerhouse REM. In 2000, Radiohead played shows in Tel Aviv and Caesarea. Guitarist Jonny Greenwood, who is married to Israeli artist Sharon Katan, has played in Israel and with Israeli artists many times.

Radiohead's show will be part of Radiohead's album A Moon Shaped Pool, out in May 2016.