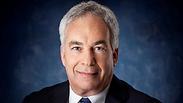 Erez Vigodman
Photo: Reuven Kaputzinski
Israel-based generic drugmaker Teva Pharmaceutical Industries Ltd said on Monday that Chief Executive Erez Vigodman was stepping down effective immediately and would be replaced on an interim basis by Yitzhak Peterburg, who has been chairman of Teva's board of directors.

Teva shares have performed poorly for more than a year and a half. They hit $72 in late July of 2015 and closed at $34.35 on the New York Stock Exchange on Monday, only to fall more than 2 percent in extended trading after the latest management shakeup was announced.

Because Israeli company law calls for separation of the roles of chairman and CEO, Petersburg will no longer head the board, which elected former Celgene Corp CEO Sol Barer to serve as the new chairman of the world's largest seller of generic medicines.

A series of stumbles and legal and operational setbacks have had investors calling for a shakeup at Teva.

Recent challenges include a US court last week finding patents invalid on Teva's most important branded product, the multiple sclerosis treatment Copaxone, integration of the Actavis generics business it bought last year for $40.5 billion amid criticism that it paid too much, and a US investigation on generic drug price fixing.

Copaxone accounted for nearly 20 percent of Teva's revenue in 2016.

Bernstein analyst Ronny Gal, in a video released to clients, said the management move was in part due to "the current crisis in the company after the price they paid for the Allergan generics business."

Gal called Peterburg "a good caretaker CEO, but clearly not a candidate to run the company long term."

Prior to rejoining Teva's board of directors in 2012, Peterburg led the company's innovative research and development efforts as head of global branded products, from October 2010 until October 2011.

The company said it hired a search firm to help identify candidates as it looks for a permanent CEO.

Teva last month provided a 2017 revenue and profit forecast below Wall Street's estimates, sending its shares sharply lower at the time.. They fell sharply again after the Copaxone patent defeat.

Vigodman had been CEO since February of 2014.