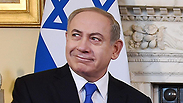 US sources indicate Trump to support two-state solution
In conversations between the White House and Jerusalem ahead of PM Netanyahu's visit to DC next week, the US administration is reportedly attempting to lay the groundwork for the two leaders to support a two-state solution, despite the recent acceleration in settlement building.
The Trump administration clarified in recent days to the Prime Minister's bureau that it intended to support the 'two-state solution' as the base for negotiations in the Israeli-Palestinian conflict.

The clarifications were part of the preparations currently underway for the first meeting between Benjamin Netanyahu and Donald Trump since the latter assumed the American presidency. That meeting is to take place next week in the US capital.

American officials have been in communication with Jerusalem, and they have sent a series of messages for the prime minister with ideas to promote the two-state solution. This would lay the groundwork for a joint statement from both the heads of government supporting this step.

In response to the Israeli government's authorizing the construction of an additional 5,000 homes in the disputed territories, the White House released a statement last week saying, "While we don't believe the existence of settlements is an impediment to peace, the construction of new settlements or the expansion of existing settlements beyond their current borders may not be helpful in achieving that goal."

The delay of Trump's nominee to be his country's ambassador to Israel—David Friedman, a supporter of Israeli settlements—is an indication of the internal disagreements in the Republican Party regarding settlements.

However, the GOP's platform, adopted before the US election, removed the two-state solution and avoided any mention of a Palestinian state.