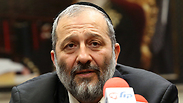 Interior Minister Aryeh Deri (Shas) used an onion to induce tears during filming for a campaign video that included a scene of him crying over the death of his mentor, Rabbi Ovadia Yosef.

Benny Elbaz, considered the Shas party's singer, made a video in Rabbi Yosef's memory ahead of the 2015 elections as part of the ultra-Orthodox party's campaign.

A behind the scenes look at the video shoot, which was aired on Monday night as part of an episode featuring Elbaz on the Channel 2 show Anashim ("People"), shows Deri struggling to tear up on cue.

Video courtesy of Channel 2

To help him, production assistants bring him an onion, which he rubs under his eyes.

Sefi Shaked, Deri's campaign manager, told Channel 2 in response: "I, as a professional manager, was unhappy with the results (of the shoot), both because of the lighting and because of other reasons.

"(Deri) cried and cried and cried for several hours and at some point we had to put him back in that mindset. I suggested the onion. In the end, after a second, they stopped using that onion.

"I can testify that he cried, and it pained him, and it still pains him. And that's the truth."