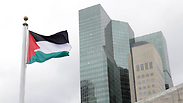 Palestinian flag raised at the United Nations Headquarters
Photo: AP
For the first time ever, Israel has fewer diplomatic missions worldwide than the Palestinian Authority—103-102. Additionally, while Israel only has representation in 78 countries, the Palestinians are represented in 95 countries.

Over the past year, the Israeli Foreign Ministry has closed four missions—El Salvador, the Caribbean Islands, Marseille and Philadelphia—leaving the country with 98 embassies, consulates and diplomatic missions in addition to four representative offices.

Compared to the rest of the world, Israel's numbers are not particularly high: Iran has 142 missions around the world, Turkey has 223, Egypt has 166, Morocco has 135, Pakistan has 118 and Saudi Arabia has 108. The Arab League and Iran together have a total of 1,941 missions.

"It is time for Israel to understand that every embassy is a front against foreign relations challenges," said the Foreign Ministry Workers Union Chairman Hanan Goder. "The more missions there are, the stronger the defense and the brighter the display window. The State of Israel must get to every place possible in the world."

Goder, who is also the ambassador to South Sudan, met with Prime Minister Benjamin Netanyahu Wednesday following a meeting between the prime minister and Israeli ambassadors in African countries. "We have serious manpower issues. People are leaving the ministry. The professional diplomat has ceased to be desirable," said Goder.

Despite an assurance by Netanyahu that the Treasury will come to a salary agreement with the Foreign Ministry by Feb. 15th, Goder said, "It is another week and I'm telling you there won't be an agreement because the Treasury is sabotaging it."