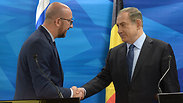 Netanyahu and Michel
Photo: Amos Ben Gershom/GPO
Israel reprimands Belgian envoy for meeting far-left NGO reps.
Despite Netanyahu's request for Belgium to stop funding Breaking the Silence and B'Tselem, Belgian PM met with representatives of both groups without Israel's knowledge; Netanyahu instructs the Foreign Ministry to reprimand the country's ambassador to Israel in response.
Belgian Ambassador to Israel Olivier Belle was reprimanded Thursday morning at the Foreign Ministry on the instructions of Prime Minister Benjamin Netanyahu, after learning of a meeting that took place between the Belgian Prime Minister Charles Michel and representatives of far-left wing groups Breaking the Silence and B'Tselem.
The meeting with the representatives of the NGOs occurred during Michel's three-day visit to Israel.
The Foreign Ministry only confirmed that the meeting took place, but did not elaborate on the details of the meeting. However, it was said that the envoy promised to convey Israel's objections to the meeting to Brussels.
Adding insult to injury, Michel's meeting with the groups was held on Wednesday, just one day after his meeting with Netanyahu, during which the latter requested that Belgium stop funding them.
Netanyahu issued the same request to British Prime Minister Theresa May when the two met in London on Sunday.
Michel was joined by members of his parliament, who notified the Israeli embassy of their intention to meet with representatives of Breaking the Silence. However, they failed to disclose the fact that their prime minister also intends to join them for the meeting.
The talks were held with the founder of Breaking the Silence Yehuda Shaul and B'Tselem Executive Director Hagai El-Ad.


"Israel views with utmost gravity Belgian Prime Minister Charles Michel's meeting today with the leaders of Breaking the Silence and B'Tselem, during his visit to Israel. The Belgian government needs to decide whether it wants to change direction or continue with an anti-Israel line," the Prime Minister's Office said, adding that "Initiatives are still underway by the Belgian state prosecutor to try senior Israelis including Tzipi Livni and IDF officers."
"Prime Minister Netanyahu has directed that legislation be advanced to prevent financing by foreign governments for NGOs that harm IDF soldiers," the PMO statement continued.


Breaking the Silence, which is made up of former IDF soldiers and officers, receives funding from European governments such as Belgium. Part of its declared mission statement is to "expose the Israeli public to the reality of everyday life in" the West Bank.
In Michel's meeting with Shaul and El-Ad he requested to be briefed on the situation in the West Bank. Therafter, he set off for a visit to Jericho and Ramallah—a trip that was coordinated ahead of time with the Israeli government.