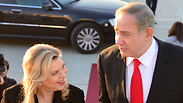 The Netanyahu couple
Photo: Kobi Gideon/GPO
A former employee of Prime Minister Benjamin Netanyahu has claimed that the prime minister knew of the illicit gifts his wife Sara was allegedly receiving from billionaire Arnon Milchan, despite Netanyahu's claims to the contrary.

"The claim that Netanyahu did not know about apparent gifts of pink champagne and other gifts is nothing more than ridiculous," the former employee claimed.

"Netanyahu knew everything, down to the smallest detail. He would even urge his friends, who Sara had fallen out with, to buy her presents such as perfumes and jewelry so he could meet with them freely," he went on to say.

"Netanyahu would meet some of them secretly, because they simply refused to buy her jewelry. One businessman who had a falling out with her was asked by Netanyahu to buy Sara perfume but he refused, saying 'I won't buy her perfume. I buy perfume for my wife,'" the source continued.

Meni Naftali, another former employee who was subjected to hostile work conditions while working as the caretaker at the Prime Minister's Residence and was awarded NIS 170,000 in damages, also claimed on Wednesday in a conversation with Yael Dan on Army Radio that Netanyahu was aware of what was allegedly going on.

"The prime minister knew exactly what Milchan was sending to the Prime Minister's Residence," he said. "When Mrs. Netanyahu says 'I want champagne from Arnon Milchan' the prime minister sits next to her on the patio—he knows what she is drinking."

According to Channel 2, investigators will focus on the question of whether Milchan expected to receive something in return for the gifts he allegedly bequeathed the Netanyahus, such relief conditions for Channel 10, which is partly owned by him, and whether Netanyahu was involved in the relief conditions eventually provided to Channel 10.

Sources involved in the investigation told Yedioth Ahronoth that Milchan is a significant witness, and that the indictment, if filed, will be supported by his testimony.

Moreover, the police know that Milchan is preparing for some sort of fight against Netanyahu—and even though the businessman is currently refusing to comment on the subject, he clarified to the investigators that he will not hesitate to provide his version in court, according to which he was obliged to send gifts to the Netanyahu family on several occasions.

Milchan also told the police to check with his assistant and driver, who were in charge of the purchasing of champagnes and cigars—and are in possession of evidence.

Meanwhile, Haaretz reported on Wednesday that Milchan gave Sara Netanyahu jewelry worth tens of thousands of shekels as a gift for her birthday last year—at the request of the prime minister.

According to the report, the businessman was hesitant at first due to the expensive nature of the gift. Netanyahu reportedly told Milchan that he had checked the matter and found no ethical problem with purchasing the jewelry.

One of Milchan's friends told the paper that the billionaire had told police that the demand from the Netanyahu couple for gifts made him feel "disgusted" on at least one occasion.

And while police had apparently gathered enough evidence for Milchan's alleged gifts to the Netanyahu couple to constitute a criminal office, investigators are now seeking to advance the investigation of gifts Australian billionaire James Packer had allegedly given the prime minister's son, Yair Netanyahu.

After having collected Yair Netanyahu's testimony, the police are waiting for Packer's deposition. The investigative team has already prepared documents and evidence of benefits allegedly provided to the family.

Channel 10 reported on Wednesday night that this deposition is delayed due to "personal circumstances" in Packer's life.

The Prime Minister's Office said in response: "All of his actions were done strictly by the law."