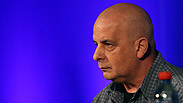 Diskin
Photo: Alex Kolomoisky
Former head of the Shin Bet, Yuval Diskin, was allegedly aware that Volkswagen had forged the pollutant emissions test results before it blew up into the Dieselgate scandal, according to the German website WirtschaftsWoche.
According to the report, Diskin and the former Israeli Ambassador to Germany Avi Primor, had secretly met with Ferdinand Piëch, Volkswagen's then chairman of the supervisory board, in February 2015. Diskin allegedly wanted to sell security products to Volkswagen.
BND website stated that the German Intelligence Agency estimated that the American Intelligence Agency may have leaked the Dieselgate information to Israel's Intelligence Agency.
In an interview to WirtschaftsWoche, Primor confirmed having conducted such a meeting. "I'm a friend of Diskin, and I did him a favor," he said and added that they "had met with several German companies," not only Volkswagen.
Primor claimed he wasn't involved in any of the business dealings, and that he was just the middleman.
According to the Bild, a German tabloid, the classified information on Dieselgate was given to Primor by "an Israeli security company," yet he continues to assert he had no preliminary information on the subject.
In 2016, Volkswagen founded CyMotive Technologies in collaboration with Diskin, and two other former Shin Bet senior officials. The company's headquarters is located in Herzliya.
Diskin's representatives have stated that "Yuval Diskin had nothing to do, even in the slightest, with the Dieselgate scandal. Diskin and his partners first found out about the case when it was exposed in the media."
Speaking to Calcalist, Primor said in response that "this is utter nonsense. I keep denying it to the German press. There was never such a meeting and I am unfamiliar with such a document."
He added that he would regularly meet with Piëch because "Volkswagen provide half of the funding for Tel Aviv University's European studies program and it has nothing to do with the Volkswagen story. It is a very expensive project since other universities like Al-Quds and universities in Germany and Jordan are participating as well."