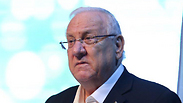 President Rivlin
Photo: Motti Kimchi
President Reuven Rivlin criticized the Regulation Law Monday morning while speaking at the 14th annual Jerusalem Conference urging that, "We need to find a way politically to live with the other residents of Israel."

Rivlin addressed Israeli policies as well as the evacuation of Amona and stressed that Israel needs to address the question of how to apply sovereignty.

At the beginning of his remarks on the passing of the law that seeks to legalize thousands of homes on private Palestinian lands, Rivlin emphasized that "throughout the years, the State of Israel did not know how to exercise sense and responsibility and to implement sovereignty.

"In east Jerusalem Israel has exercised sovereignty and later, the Begin government passed the Jerusalem Law and then the Golan Heights Law. These laws established sovereignty, and thus set different rules."

Rivlin further addressed the controversial law, which evoked an international backlash, saying, "What is clear is that in order to prove that there is no contradiction between democracy and a Jewish state, it is important not to pass laws in places where we haven't decided to exercise sovereignty. We must first decide what our position is regarding sovereignty."

Rivlin also referred to the recent Amona evacuation, saying, "There is no question that whoever was hurt feels like the government should provide a solution and damages to build a new home. The people were sent by the government to settle, the state brought electricity and paved roads and the state should bear the consequences."