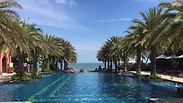 Gorgeous beach resort hotels
Thailand is undoubtedly one of the top holiday destinations for Israelis. Some 161,000 Israelis traveled there in 2016, an all-time record. Sixty-three percent of them were repeat visitors.

But I've never been one of them. I've always had this impression of Thailand as a place of ladyboys and prostitution, out-of-control partying and decadence, drugs and local crime gangs. Sure, there are also long sandy beaches and clear blue water, a tropical paradise of massages and relaxation. But I've always felt like the reward was not worth the cost, and that there were other places where I could enjoy some time in the sun without the darkness of Bangkok.

So when I was offered to travel to Thailand for work to scope out a destination "new" (read: unfamiliar) to Israelis, I decided to go for the sake of adventure. I wanted to challenge myself, get out of my comfort zone, and try something I knew I would not have done otherwise.

When I got to Hua Hin, a summer town on the shores of the Gulf of Thailand where Bangkok's middle and upper class vacation, I was surprised to find a tropical paradise that had all of the virtues and none of the vices of Pattaya, Ko Samui and Phuket.


The town is favored by Thailand's wealthy and its royals (King Rama VI even built his summer palace there, which you can visit). It is cleaner and safer, with no rampant crime in the streets. Prostitution still exists there, and those who seek shall find it, but it's not as widespread as it is elsewhere, and I was able to go a whole week without meeting even one unsavory character.

Hua Hin is a great destination for families, but also for couples—middle aged and older—who simply want to go somewhere to take a break from the crazy pace of life and rest their weary heads. Don't get me wrong, Hua Hin is not entirely devoid of adventure. Young adults, nature lovers and thrill seekers would also find suitable activities to fill their time, in addition to treating themselves to some pampering in the town's many hotels and resorts. Hua Hin's charm lies in the ability to do both—combine leisure with adventure, action with relaxation.

The town's 10 kilometers of sandy beaches and clear blue water have something for everyone, including water sports, game fishing, snorkeling, wind-surfing and other water activities, while the beach itself is peppered with activities from waterfront massages to pony rides.

Those who decide to bring their children along will find a variety of activities for the entire family. The Hua Hin Safari is rather expensive, but if petting tiger cubs and getting massages from an elephant (which, surprisingly, is gentler than your typical Thai masseuse) is your thing, it might be worth the cost (do note that in addition to the price of admission, each of these activities incurs extra cost). Meanwhile, the Vana Nava Water Jungle has all the makings of a water park. It also boasts the largest water slide in Thailand—towering at 28 meters (92 feet) high.

Nature lovers can explore Thailand's largest national park, Kaeng Krachan, which covers some 741,000 acres (conversely, 1/7th the size of the State of Israel), of evergreen jungles. The park is home to a plethora of wildlife, with visitors encountering monkeys, butterflies and birds (likely) or coming across leopards and elephants (less likely, unless you camp out or arrive very early in the morning), among many other animals.

Those who enjoy nature hikes could visit the Pala-U Waterfall. The trek is comprised of 15 levels, with difficulty increasing the further into the trail you go. Families and those who aren't the fittest of walkers would be able to get to the fourth level, where they will be greeted by a majestic waterfall cascading into a pool full of carp, which will be all too happy if you throw some food their way.

If you're looking for a challenge, however, you will need a local guide to take you farther than the fourth level. Either way, wear comfortable shoes—there is a lot of climbing up and down rocks and boulders—and a bathing suit—as you can dip in the water just about anywhere along the trail.

Deeper into the Kaeng Krachan Park, there are also camping grounds and white water rafting, to those who feel so inclined.

Families looking for calmer waters for rafting will find what they seek on the Phetchaburi River, which crosses the park. I especially recommend a boat ride on the lake, which is dotted by tiny islands whose inhabitants include, among others, very friendly monkeys (especially if you bring food).

Also nearby is the Khao Sam Roi Yot National Park, which is also known as the 300 Peaks National Park. If you're up to it, you should hike up the 430 meters of (steep and rocky) stairs to the Tham Phraya Nakhon Cave. The effort is worth it. The stalactite cave, which is made of chalk and granite, is home to an impressive pavilion constructed and brought there to commemorate the visit of King Rama V in 1890.

While King Rama V never got to see the pavilion, King Rama VII and King Rama IX did when they visited it, and the signatures of Rama V and Rama VII can be seen on the cave wall to the right of the pavilion. The scene is lit by a natural skylight created in the "roof"' of the cave by a sinkhole, creating a truly breathtaking sight (you might also be a little out of breath from the climb, but that's neither here nor there).

Hua Hin has a variety of options for accommodation. Families could enjoy local hotels or the massive beach resorts: The Hilton is surrounded by an assortment of restaurants, bars and other hang out spots for a bit of evening or late night fun; The Marriott's slithering pool that goes around the entire property, providing guests with backyard access to the cool water; The Marrakesh is beautifully designed, with an infinity pool lined with palm trees; and the Anantara, which is fashioned as yet another tropical paradise.

Those looking for something more affordable, particularly for families, could stay at Let's Sea Hua Hin Al Fresco Resort, which offers rooms starting at 2,000 baht ($57) a night with two massive king-sized beds and the option to add another bed. Its sister hotel is for those over 12 years of age, where adults who would rather have some peace and quiet—away from screaming children—can enjoy just that.

The best restaurants in Hua Hin can be found inside its massive resorts. Marrakesh's Al Hamra restaurant combines Thai food with Middle Eastern flavors, while Big Fish at the Marriott introduces you to a palette of seafood served alongside western food in a delicious five-course meal. Meanwhile, Let's Sea's gorgeous beachside restaurant offers gourmet Thai food.

For a more authentic culinary experience, check out the local food markets. The Tamarind Food Market only opens on the weekends (Saturday and Sunday) and has a wide variety of local foods at affordable prices as well as some live music to spruce up your evening.

The nearby Cicadas Market and Grand Night Market offer, in addition to local food, clothes and fashion accessories, gifts, toys, art and more. If you're looking for brand names, visit the BluPort and Market Village shopping centers or the Fly Now Factory Outlet on the main highway (Phetkasem Road).

And how do you get there? The Israeli national airline El Al, in conjunction with Eshet Tours, is offering vacation packages that include a flight from Tel Aviv to Bangkok (6-7 direct flights a week), a week in a 5-star hotel and transportation from Bangkok to Hua Hun (3-4 hour drive) starting at $1,399 per person during the low season or $1,599 during peak season.

There is also a charming train station, built in 1924, which takes passengers from Bangkok to Hua Hin and back twice a day.

The writer was a guest of El Al and Eshet Tours.