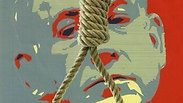 On Tuesday, the prosecution dropped the case against the Bezalel student who had made a poster lampooning the prime minister due to lack of culpability.
Two months after a poster depicting Benjamin Netanyahu's head with a noose adorned the walls of the Bezalel Academy of Arts and Design in Jerusalem, kicking up quite a storm, the prosecution decided to close the case against the student who designed the installation.
The controversial poster integrated Netanyahu's picture with a noose and former US President Barack Obama's campaign poster. A few hours later, the poster was removed. A day later, the student was brought in for questioning by the Israel Police under suspicion of incitement.
The installation, which was rapidly removed, garnered a slew of harsh criticisms from both sides of the political grid.
Minister of Culture and Sport Miri Regev addressed the issue by stating that "the freedom of art is not the freedom of incitement. This is an artistic talent to incite and to murder."
Head of the opposition, Isaac Herzog also condemned the poster and said that "freedom of speech is important and essential, but it shouldn't be used as a means to incite to cause harm to public figures. Netanyahu shall be replaced through democratic means only."
Two days after the occurrence, Bezalel Academy's walls were filled with additional posters, which were put up in protest of their colleague's police questioning.
The protest continued over the following day as well, with students demonstrating and striking for two hours. At the same time, the controversial posters were put back up, but then removed again by students.