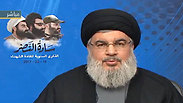 Hezbollah leader Hassan Nasrallah warned Israel Thursday that the Lebanese terror group has the ability to launch missile strikes at cargo ships approaching Haifa Bay as well as an ammonia tank situated in the harbor.

Speaking to Hezbollah's al-Manar television station, Nasrallah also leveled a veiled threat at Israel's nuclear reactor in Dimona, "suggesting" Israel dismantle the site or face an attack on the reactor in the event of an armed conflict between the sides. He warned that the organization has hidden weaponry that has not been detected by Israeli intelligence agencies and could surprise Israel in the event of a war.

"I call upon Israel not only to evacuate the ammonia tank from Haifa, but also to dismantle the Dimona nuclear reactor. The Israeli nuclear weapon that represents a threat to the entire region—we will turn it into a threat to Israel," Nasrallah said.

Minister of Intelligence Yisrael Katz responded to the threat saying, "If Nasrallah dares to fire at the Israel homefront or at its national infrastructure, all of Lebanon will be hit," he said in response to Nasrallah's threats.

The Hezbollah leader declared yesterday's meeting between Prime Miniser Binyamin Netanyahu and US President Donald Trump as the "semi-official death notice for the negotiation process", and cautioned that his organization is not afraid of changing US policy in region.

Republished with permission from the Tazpit Press Service (TPS).