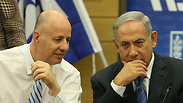 Hanegbi and Netanyahu
Photo: Amit Shabi
Prime Minister Benjamin Netanyahu stated on Friday that he intends to appoint Minister of Regional Cooperation Tzachi Hanegbi to be the interim minister of Communications.

Hanegbi is expected to hold the position for the next three months until Netanyahu decides on a suitable replacement.

Netanyahu gave up the Communications portfolio at the beginning of February after the High Court of Justice announced that it would consider the petitions against him to relinquish the portfolio due to his involvement in what police have named "the 2000 case", in which Netanyahu was reportedly recorded negotiating on the phone with Yedioth Ahronoth owner Arnon Mozes on mutual benefits.

The petitions were filed by Leader of the Opposition Isaac Herzog and the Movement for Quality Government, who demanded that he relinquish the ministerial portfolios for both Foreign Affairs and Communications.

In a court order following the petitions, Netanyahu was ordered to give valid reason to keep those portfolios in light of the current investigations against him.

He has until February 20 to reply to the court. Following that, a hearing will be held on the subject in March.