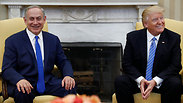 Netanyahu and Trump
Photo: AP
Trump in weekly address reaffirms bond with 'cherished ally Israel'
'It was an honor to welcome my friend, Prime Minister Benjamin Netanyahu to the White House,' says US President Trump in his weekly address to the American people, following Wednesday's meeting with PM Netanyahu. 'I affirmed to the prime minister America's commitment to working with Israel and our allies and partners toward greater security and stability.'
US President Donald Trump referred to his meeting with Prime Minister Benjamin Netanyahu during his weekly address on Friday.
"The United States also reaffirmed our unbreakable bond this week, with our cherished ally Israel. It was an honor to welcome my friend, Prime Minister Benjamin Netanyahu to the White House. I affirmed to the prime minister America's commitment to working with Israel and our allies and partners toward greater security and stability," said Trump to the American people during the address.
Trump's weekly address
"The threat of terrorism—and believe me, it is a threat—must be confronted and defeated, and we will defeat it. We share with Israel a deep conviction that we must protect all innocent human life."
During their joint press conference on Wednesday, Trump mentioned Israel's building in the West bank. "I'd like to see you pull back on settlements for a little bit," Trump told Netanyahu. The Israeli leader later insisted that Jewish settlements were "not the core of the conflict" and made no commitment to reduce settlement building.
Netanyahu, for his part, said during the press conferrence that there is "no greater supporter of the Jewish people and the Jewish state than President Donald Trump." The prime minister was addressing a question from Israeli media about fears the administration "is playing with xenophobia and maybe racist tones."