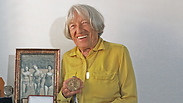 Keleti with one of her gold medals
Photo: Dana Kopel
The Israel Prize in the field of sports will be presented this year to the ten-time Olympic medalist and Holocaust survivor Ágnes Keleti.

The 96-year-old Hungarian born woman won all her Olympic medals—five of them gold—in artistic gymnastics. The prize committee stated in its remarks that Keleti is a powerful and brilliant figure. "A trailblazing woman, a leader and a role model for all her students in Israel and across the world, who made history and lives among us," they wrote.

They added, "Deeply appreciated in the world and in sports communities for generations, and still considered one of the greatest gymnasts in history of the field of artistic gymnastics."

Keleti was born in Budapest and began training at the age of four. At 16, she was already the Hungarian champion on the parallel bars. During the Nazi occupation, she survived by using false papers and working as a maid in a village and then as a laborer in a munitions factor. After the war, she resumed training.

At the 1952 Helsinki Olympics, she won four medals: a gold in floor gymnastics, a silver in team all-around, and bronzes in uneven bars and team portable apparatus. Four years later, at the Melbourne Olympics, she won a further six medals: three personal golds in uneven bars, balance beam and floor gymnastics, a group gold in portable team, and two silver medals in personal and all-around team.

In 1957, Keleti came to Israel for the Maccabiah Games, and she remained. She was amongst the founders of the gymnastics world in Israel and led it for over half a century. She trained gymnasts and guided generations.

The prize committee noted that sports education and passing it on to the younger generation was one of the most important values for her, so she began training physical education teachers in Israeli schools, where she "set a particularly high standard for future physical education teachers as the basis for instilling good habits in various areas for future generations," the committee wrote. "Personal responsibility and self discipline were her guiding light."

Keleti is the most successful Jewish female athlete to have competed in the Olympics, and her number of Olympic medals won by a Jew is only beat by the American swimmer Mark Spitz, who won 11.