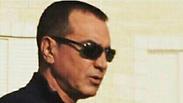 One of 2017's Arab murder victims
Merely a month and a half since the beginning of 2017, ten Arab men have already been murdered, according to the latest statistics, with eight people shot to death, one being stabbed to death, and another falling victim to a vicious and and fatal beating.

The statistics join a worrying growing number of female Arab murder victims in 2016, compared to 2015.

The tenth victim was a businessman in his 50s from the Arab town of Kafr Qasim, who was killed on Saturday after being shot. He was initially rushed to Beilinson Hospital in Petah Tikva. He was originally declared to be in moderate-to-serious condition, but his situation later began to deteriorate.

He is the brother of Mustafa Amar who, together with his son Ala, was murdered two weeks prior at a parking lot during a shooting attack.

It was expected that the new year would bring with it a decrease in crime and violence rates within the Arab sector, but the speed with which these cases have been racking up shows no signs of slowing down.

Police are still investigating all Arab murder cases from 2017, but so far only one suspect was arrested for alleged involvement in the murder of a young man from the northern Arab town of Umm al-Fahm; no one has been arrested in relation to any of the other nine cases.

Sami, a resident of the northern Arab city of Sakhnin, said that "The violence and crime in Arab society is spreading and hurting the innocent, as well. The atmosphere is very severe, a lot of people have forgotten the meaning of tolerance and resort to shooting to solve any small problem, without trying to solve disagreements in a better way."

Isa, a resident of the Galilee Arab town of Yafa an-Naseriyye, said that he feels "The government has abandoned its Arab citizens, while the police busies itself with giving out fines, after which they swiftly disappear. They don't invest in fighting terrorism or violence. They only close off a neighborhood and go door to door to catch a suspect, like they did in Haifa's Halisa neighborhood, in cases that involve a non-Arab citizen.

"Not a weekend goes by without a murder or attempted murder in the Arab community. When will the government take responsibility and protect its Arab citizens?"

Ali, also from Umm al-Fahm, added that "These statistics show that we are all living in danger. The most disappointing thing is that a lot of sources criticize the government, racist decision makers and the occupation, but you don't hear them talk about the criminals walking free in our streets."

He went on to say that "All the steps that have been taken have failed. We the residents will keep on paying the price."

The Israel Police issued a statement on the matter, saying that its murder investigations are thoroughly and professionally conducted "while striving without compromise to arrive at the truth and bring murderers to justice, without any connection to the murderer or victim's identity or origin."