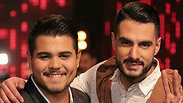 An Arab from Israel and a Palestinian are the two finalists of "Arab Idol," a competitive, reality singing television show with a considerable following in the Arab world.

Ameer Dandan, 26, an Arab from the Galilee village of Majd al-Krum who identifies as Palestinian, is going up against Yacoub Shahin, 23, a Palestinian from Bethlehem. Despite seeing themselves as brothers, in the finals—at least for a few hours—they will be bitter rivals competing for stardom.

Arab Idol contestants Ameer Dandan and Yacoub Shahin

The two have spent years in the music world, with Shahin beginning to sing as a child and playing both the bouzouki and the clarinet. He has participated in several singing competitions and in 2012 won the Palestinian singing competition "A Star is Born."

Dandan was also raised in a musical home, with both his father and uncle being musicians. While being officially born in Israel, the program's production team listed Dandan as Palestinian. In an interview with Yedioth Ahronoth, former head of the Local Committee Mohammad Manna said that if Dandan wins, the village will throw a huge party in his honor.

Dandan and Shahin both endeavor to follow in the footsteps of Mohammed Assaf, a Palestinian from the Gaza Strip who won the competition in 2013 and has since gone on to become one of the Arab world's biggest stars.

The final round of the competition will be held in Beirut in another week and a half. In light of the competition between the two, an Arab from Israel (who identifies as Palestinian) and a Palestinian, the number of viewers is expected to be particularly high.