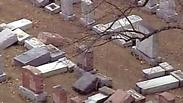 St. Louis Jewish cemetery
More than 100 Jewish graves were desecrated in the Chesed Shel Emeth Cemetery in St. Louis, Missouri. According to reports, hundreds of headstones were vandalized and toppled over the weekend. Simultaneously, on Monday, 11 Jewish centers across the US recieved bomb threats and had to evacuate.

State police opened an investigation, but refused to define the incident as a hate crime, stating that "all angles are being covered." Police officers examined security footage in the area, and it is suspected that this was the result of an intentional act committed by a group of people rather than the act of a single individual.

St. Louis Jewish cemetery vandalized (צילום: רויטרס)

Relatives of those buried in the cemetery arrived to the site after the reports. "It's horrifying," said Mira Kats who placed the blame on the new government administration, "there is so much anti-Semitism now with all those cabinet members. Maybe I shouldn't say that, but you can't put bigots and people with so much hatred in a cabinet and not have them think it's ok to hate everybody."

Jenny Rosenblatt arrived to the site after the gate had already closed and promised to return the next day: "I lived in Israel for a very long time, and when something like this happens, you go and you drive by to see that everything is ok."

No suspects have been arrested.

The same time with the discovery of the massive damage to the historical gravesite, several Jewish community centers (JCC) across the United States were evacuated for a time on Monday after receiving bomb threats, the latest wave of threatened attacks against them this year, the national umbrella organization said.

Some 11 centers including those in the Houston, Chicago and Milwaukee areas received phoned-in bomb threats that were later determined to be hoaxes, said David Posner, a director at JCC Association of North America who advises centers on security.

No arrests were made and no one was injured. All of the centers returned to normal operations, Posner said in a statement.

The FBI was investigating the incidents, Posner said.

Officials at the FBI were not immediately available for comment.

Monday's incidents come after three waves of bomb threats in 2017. In all, 69 incidents at 54 JCCs in 27 states and one Canadian province have been reported, according to the JCC Association of North America.

"We are concerned about the anti-Semitism behind these threats, and the repetition of threats intended to interfere with day-to-day life," Posner said.

Donald Trump on anti-Semitism

The White House denounced these acts of anti-Semitism across the country. White House deputy press secretary Lindsay Walters said, "Hatred and hate-motivated violence of any kind have no place in a country founded on the promise of individual freedom. The President has made it abundantly clear that these actions are unacceptable."

Ivanka Trump, who converted to Judaism and married Jared Kushner, addressed the wave of anti-Semitism via Twitter: "America is a nation built on the principle of religious tolerance. We must protect our houses of worship & religious centers."