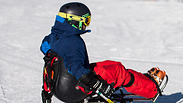 Adaptive skiing
Photo: Guy Galboiz Ski School
Disabled IDF veteran teaches other wounded vets how to ski
After nearly losing his life in an accident during his IDF service, Guy Galboiz was unable to leave his home for 5 years, but he insists this had nothing to do with his becoming a ski instructor for the disabled. As far as Galboiz is concerned, there is no mountain too high to climb, even if it means building runs adapted for the disabled.
Guy Galboiz was injured in a training accident during his IDF service, leaving him disabled and unable to leave the house for five years. But if you ask him, he would insist that had nothing to do with the fact he is now helping disabled veterans in Israel and abroad learn how to ski.

"I was standing next to an APC, when its track flew towards my leg," the 38-year-old Galboiz recalls. "My knee suffered a serious blow."

A fighter at heart, he refused to be recognized by the military as disabled and insisted to return to active duty and complete his service.

He became an adaptive ski instructor by chance, but from there his path became clearer.

"I began to teach in 2007," he says. "A year later, I met a guy whose leg was amputated and was asked if I wanted to join a private group of disabled individuals who wanted to travel to the Alps. I agreed and from there things just started."




"It's important to understand that the program for adaptive ski instructors is a combined program, which includes learning and training with disabled skiers," he explains. "This complexity makes it the optimal way to learn."

He later went on to study in advanced courses and, in addition to his professional qualification, traveled to Wyoming a few times to attend professional courses in a park that is adapted for the disabled, and later also extended his qualification all the way to Switzerland.

"The diversity added a lot for me," he says. "Every location offers a different approach; you learn a lot and as an observer you also get a chance to learn from others' mistakes."

"I believe that people with disabilities can ski, even as part of regular groups," he goes on to say.

"It's better to give a person the tools that would make him independent. It's not simple, but it's practical," Galboiz explains.

"Instructing disabled skiers is challenging. The equipment and clothing get damaged and ruined more frequently. You have to drag and push, which is also physically difficult. The beginners often fall, just like beginners who are not disabled. The difference is that you have to help them get up every time."

"It is easy to stick to what's easy. For example, in France, adaptive instructors continuously hold the disabled skiers so they hardly fall: no falls, no helping them up. It's easier and more convenient for everyone, but at the end of the course, that person still doesn't know how to ski. He cannot ski the blue run (for beginners) without having help. I bring skiers to a point where they can ski beside me on the red run and most of the time, they ski on their own. It also depends on the person, but if you let him fall, help him up, and explain, eventually he won't fall, and even if he does, he will know how to get up."

Ski instruction is a physical profession that requires physical skills and fitness. Adaptive ski instruction requires mental strength as well. Not everyone is up to the job, but those who are feel great satisfaction and an immense sense of giving.

"I skied with Moshe for many years," Galboiz recounts. "Moshe is visually impaired. He explained to me that during the day he can see as though looking through opaque glass. He is also one armed after his arm was amputated, all from the First Lebanon War.

"Moshe explained that he sees a stain in the color of my suit, and when he skis behind me, he follows that stain. We agreed that I wouldn't make any sharp changes in the direction of skiing so that he would be able to follow me. I never had to wait for him; he is simply an excellent skier."

Tips for skiers with disabilities:
Don't travel abroad to ski without first trying to ski in Israel: either at the Skimulator, which offers a controlled environment, or on Mount Hermon. The prices of adaptive ski lessons overseas are substantially higher than regular ski lessons. Whereas the cost of weekly lessons for the average skier would amount to a few hundred Euros, for a disabled skier that cost would be around 1,000-1,500 Euros per week, which does not include the price of renting the monoski.
Choose an instructor that is experienced in working with the disabled. It is critical for an instructor to be familiar with various nuances that apply to disabled skiers, since some of them won't even know about them before getting to the site.
Choose a ski site that clearly offers adaptive skiing, otherwise the logistics are extremely complicated. The adapted sites offer rides, lifts, restaurants, lavatories etc that are all friendly and accessible. It is of paramount importance to eliminate any unexpected factors.
Get properly equipped. It is extremely important to maintain body heat, specifically when a skier cannot feel his legs. There is no substitute for protective shoes with good socks.
Physically preparing is extremely important for disabled skiers. Do not ski without getting physically prepared.