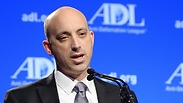 Anti-Defamation League CEO Jonathan Greenblatt
Photo: ADL
Anti-Defamation League receives bomb threat
After a bomb threat is made to the Anti-Defamation League's headquarters in New York City, Law enforcement agencies open an investigation to determine if its validity and if its possible connection to threats against other Jewish institutions across the nation.
Law enforcement agencies have opened an investigation after a bomb threat was phoned in Wednesday to the Anti-Defamation League (ADL) Headquarters in New York City.
ADL CEO Jonathan Greenblatt said it appears to be no more than a threat, but that nevertheless, the organization is "taking it very seriously."
New York Gov. Andrew Cuomo said he has directed state police to coordinate with federal and local law enforcement agencies investigating the phone threat.
The ADL said it is working with law enforcers to determine if the incident is connected to threats against Jewish institutions nationwide.
Cuomo also cited recent threats targeting Jewish community centers in Buffalo, Albany and Syracuse.
Greenblatt said the incident will not deter the ADL's mission to combat anti-Semitism and "hate against people of all races and religions."
The recent rise in anti-Semitic acts did not go unnoticed by the US government, with President Donald Trump addressing it Tuesday as "a very sad reminder of the work that still must be done to root out hate and prejudice and evil."
Vice President Mike Pence similarly condemned the desecration of a St. Louis Jewish cemetery, where more than 150 headstones were damaged earlier this week, as a "vile act of vandalism."