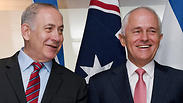 Netanyahu with Australia's Prime Minister Turnbull
Photo: AP
Netanyahu hopes to triple Israel-Australia trade
'Our trade is $1 billion. It should be at least double or triple that,' the Israeli prime minister tells his Australian counterpart Malcolm Turnbull during visit to Sydney; the two governments signed cooperation agreements on technological innovation and air services.
SYDNEY - Prime Minister Benjamin Netanyahu said Thursday that he hoped to triple bilateral trade with Australia as the countries forge closer technology and aviation ties.

Bilateral trade is currently worth about $1 billion a year, with Israel sending less than one percent of its exports Down Under and Australian products accounting for just 0.3 percent of Israel's imports.

"Our trade is $1 billion. It should be at least double or triple that," Netanyahu said as he sat for talks with Prime Minister Malcolm Turnbull and Australian government ministers in Sydney.


"I'd like to encourage the Australian and Israeli companies to increase in trade," he said.



"If I did the schlep, they should do it too," he added, referring to the 14,200-kilometer (8,800-mile) journey between Sydney and Tel Aviv.

His comments came after he and Turnbull oversaw the signing of agreements for more cooperation between Israel and Australia on technological innovation and air services during the second day of his four-day visit.

Netanyahu visited Sydney Jewish school Moriah College, where he was mobbed by cheering primary students, while his wife Sara earlier shared morning tea with Lucy Turnbull at Jesse's kosher bakery.

While Netanyahu has enjoyed a warm welcome from Turnbull and Sydney's Jewish community, Palestinian supporters will rally in downtown Sydney on Thursday night to protest Israel's settlement expansion in the West Bank.

The Australian National Imams Council also released a statement accusing Israel of committing brutalities against Palestinians and urged Turnbull to demand Israel end its "illegal settlement" and respect the rights of the Palestinians.