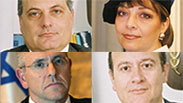 The four selected Supreme Court judges: Yosef Elron, George Karra, Yael Vilner and David Mintz
The new Supreme Court: More conservative, more right-wing
Analysis: After the four new judges selected on Wednesday are sworn in over the next six months, Israel will receive a court which is more restrained in its intervention in Knesset legislation and government decisions and more 'sympathetic' to the rightist-religious-settler agenda.
The State of Israel took a significant step Wednesday towards implementing a cultural, governmental and moral change. A drastic move, orchestrated by Justice Minister Ayelet Shaked (Bayit Yehudi) and President of the Israel Bar Association Efi Naveh, was taken to lead the Supreme Court on a different path which will restrain former Chief Justice Aharon Barak's "constitutional revolution," make the court more conservative and inhibit its involvement in Knesset legislation and in government decisions. More importantly, it will facilitate an "understanding" of the rightist-religious-settler agenda.
Behind the scenes, Chief Justice Miriam Naor has been waging an impressive battle over the past few months to preserve the image and composition of the Supreme Court. She has sought to maintain the way in which it is run and in which it has strengthened since the state's establishment.
Also behind the scenes, Naor received support from some of the Supreme Court judges, led by designated chief justice, Esther Hayut, who turned out to be quite an aggressive figure.
While Naor is set to retire in about six months, and Hayut will be the one left with the selected judges, Naor can ill afford to act as if it does not affect her.
The Supreme Court is operating in an environment which has changed in the past decade. What was once a fortified defense impenetrable against a bulwark of steadfast justices, became an institution on the front lines. Politicians marked it as a target for their attacks, deeming it as elite body which needed to be eradicated and turned into little more than a representative body.
In such a climate, Naor was forced to manage the selection and replacement of four judges—about one-quarter of the Supreme Court's composition.
Naor was up against Justice Minister Shaked—a determined ideological rightist who is unwilling to give up a single governmental outpost. As soon as she was appointed, Shaked announced her intention to divert the aircraft carrier known as the Supreme Court more in line with a conservative-rightist-settler agenda.
She brought in Efi Naveh, who transformed the Israel Bar Association from a passive body run under the wings of the Supreme Court, into an active, dominant, independent and influential body, who served as a mediator between Naor and Shaked, while at same time forming an alliance with Finance Minister Moshe Kahlon, a member of the Judicial Selection Committee.
On paper, Wednesday's selection marks a victory for Shaked's conservative line. But experience shows that when a judge reaches the most important place in the legal system, he or she puts on a different hat.
Although the convention remains that every judge is independent, that the only thing he or she fears is the law, that he or she is independent-minded and brings along a general system of values and ideological inclinations, the truth is that when a judge is in the company of others, he is also subject to influences, arguments and mutual persuasion On the other hand, the relations in the Supreme Court are considered excellent. There are no camps and no pressures.
Nevertheless, the fact that the Supreme Court's restraint and conservative trend has been an ongoing pattern for a decade should not be concealed. Alongside their brave rulings, the Supreme Court judges do not live in a bubble. They hear the political calls, sense its trends and are well aware of the threats that a D9 bulldozer will be sent to level the court each time politicians are unhappy with its rulings.
They hear the voices seeking to reduce their authority and harm their independence. They are constantly forced to go against the grain of popular opinion.
So what happened on Wednesday eventually depends on the choice that will be made by Israeli society and the political world: Does it want to see an independent Supreme Court, with democratic-liberal values, or a weak court which will only march to the public's beat rather than march to demands of justice. From what we have seen in recent years, there is no cause for optimism.