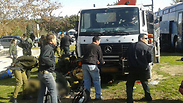 The High Court ruled on Thursday that the home of the terrorist Fadi Ahmad Al-Qunbar, who carried out the deadly vehicular ramming attack in the Talpiot promenade and murdering four soldiers, should be demolished. The decision was made following a petition filed by Al-Qunbar's family.

"This terror attack was planned, cruel and unusual in its severity with fateful consequences," stated Justice Yoram Danziger.

"The ideologically motivated attack was carried out by the terrorist alone; namely, his involvement was direct. Another important factor, which is also undisputed, is that the terrorist himself resided in the specific residential unit designated for destruction, so that there is a direct connection between him and the structure to be demolished," continued Danziger.

Judge Noam Solberg joined the ruling: "The damage incurred to the family is bothersome, but as I have said on several occasions murderous terrorist attacks on Israeli civilians leaves no choice for the military commander, who is committed to use all of the legal means at his disposal to literally save lives."

Justice Anat Baron also noted that "the classified material presented to us shows apparent knowledge on behalf of the perpetrator's family about his plan to carry out the attack. Under these circumstances, even if the efficacy of deterrence in house demolitions is questionable, I came to the conclusion that demolishing the residential dwelling is proportionate."

Herzel Hajjaj, father of Lt. Shir Hajaj who was murdered in the truck ramming attack, said after the ruling: "I support the court, and even though this decision will not give us our daughter back, perhaps it would deter potential terrorists...It certainly does not make up for the great loss."

The other three victims were Shira Tzur, Erez Orbach and Yael Yakutiel, all 20 years old at the time of their deaths.